Gladys May Freitag
Edwardsville | Tuesday, January 26 2016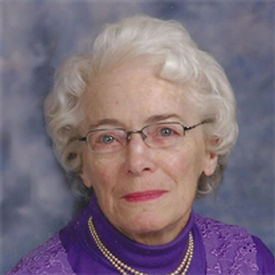 On January 25, 2016, Gladys May Freitag of Edwardsville, Illinois peacefully
left this life at the age of 93. She was tired of sitting and tired of laying and ready to join her husband in Heaven. She kept her sense of humor and her quiet smile to the very end. She was preceded in death by her husband, Harry Bernard Freitag on July 5, 2015. She is survived by her three children Nancy Lanette Waterman, wife of Miles Arlie Waterman Jr. of Sorento, Larry Eugene Freitag, husband of Joyce Ann Gatton of Edwardsville, and Michael Wayne Freitag, '
husband of Janis Kay Boyle of Edwardsville. She is also survived by 11 grandchildren; 22 great grandchildren; and 1 great great grandchild.
Gladys was born on December 10, 1922, in Modesto, Illinois as the fifth of six children born to William Madison and Zanza Fleeta (McLain) Madison. She is preceded in death by 3 brothers, Peyton William Madison, William Elsworth Madison, Ernest Henry Madison, and 2 sisters, Eileen Faye Lankford and Madeline Rose Reynolds. She also had a stepfather, Richard E. Smith. She met her sweetheart Harry B. Freitag at Jacksonville High School and joined him in
marriage shortly after his military service in WWII. They were married on March 29, 1946 and lived briefly in California before returning home to be with family. They enjoyed 69 years together in marriage.
She spent most of her life taking care of her home and family as a homemaker but also held jobs as a waitress, telephone operator, and as a Rosy the riveter during the war. She enjoyed worshiping at Immanuel Methodist Church on Main Street in Edwardsville where he and Gladys helped to prepare and serve free meals for the community every Friday.
Visitation will be at Weber & Rodney Funeral Home in Edwardsville from 4:00 PM to 7:00 PM on Friday January 29, 2016. Funeral services will be at 10:00 AM on Saturday January 30, 2016 at the funeral home with Rev. Jackie Havis-Shear officiating. She will be interred at Sunset Hills Cemetery following the services. A funeral diner will follow at Immanuel Methodist Church. Memorials may be made to Breeze Hospice.


Obit Provided By:
Weber & Rodney Funeral Home