Evelyn M. Bowles
Edwardsville | Friday, April 8 2016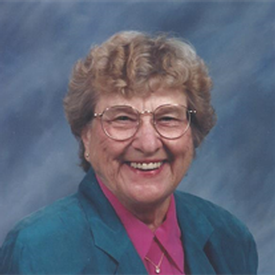 Evelyn M. Bowles, age 94, of Edwardsville, Illinois, died at 5:42 p.m. Friday, April 8, 2016, at Eden Village Care Center. Evelyn served as Madison County Clerk from 1972-1994, and as Illinois State Senator from 1994-2002.
She was born April 22, 1921, in Worden, Illinois the daughter of the late Ira & Anna (Augustine) Bowles. Evelyn was preceded in death by 1 brother, Ira Bowles, Jr. She served in the United States Coast Guard-SPARS from 1943 to 1945, in the Intelligence Division. Evelyn held many memberships, which include: St. Mary's Catholic Church in Edwardsville, where she served as the first chairman of the Parish Council. She also belonged to the American Federation of State, County & Municipal Employees, Business Professional Women, Daughters of Isabella, Association of American Retired People, American Legion Post 199, Madison County Historical Museum & Archival Library, SIUE Alumni Association, &and Women in Military Service for America Memorial Foundation's.
Visitation will be held from 2:00 p.m. to 7:00 p.m. on Wednesday, April 13, 2016, at Weber & Rodney Funeral Home. A funeral mass will be held at 10:30 a.m. on Thursday, April 14, 2016, at St. Mary's Catholic Church in Edwardsville with Fr. Dan Bergbower officiating. Interment will be at Sacred Heart Cemetery in Livingston, Illinois.
In lieu of flowers memorial donations can be made to: The Evelyn Bowles Scholarship Endowment at the SIUE Foundation. Checks may be made payable to the SIU-E Foundation for the Evelyn Bowles Scholarship, and mailed to: SIUE Foundation, Masses, or a charity of donor's choice.
Obit Provided By:
Weber Monument Sales