Evelyn L. Glozik
Glen Carbon | Tuesday, January 26 2016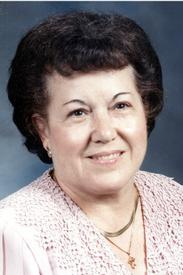 Evelyn L. Glozik, 91, of Glen Carbon, Illinois passed away at 1:00 a.m. on Tuesday, January 26, 2016 at the Vintage Gardens at Meridian Village in Glen Carbon.

She was born February 8, 1924 in Granite City, a daughter of the late Clarence and Katherine (Molique) Donley.

She married Edward Glozik on October 17, 1942 in Union, Missouri and he passed away on June 20, 2004.

She was a secretary at Washington Elementary School and retired from Mitchell School after many years of dedicated service with Granite City School District #9. She was instrumental in forming the School District #9 Secretary's Union.

She attended St. John United Church of Christ in Granite City and was a member of the H.O.P.E. widows group. She enjoyed collecting antiques and her many days of traveling and enjoyed her trips to California.

She is survived by two daughters, Sheryl Evans of Granite City and Marilyn Anderson of Valley Park, Missouri; a granddaughter, Kimberly Plant of Zionsville, Indiana; two great grandchildren, Julia and Thomas Plant; other extended family and many friends.

In addition to her beloved husband and parents, she was preceded in death by two brothers, Lorin Gentry and Elvin Gentry.

In celebration of her life, visitation will be at Irwin Chapel, 3960 Maryville Road in Granite City on Saturday, January 30, 2016 from 10:30 a.m. until time of funeral service at 12:00 noon with Reverend Charles West officiating.

Burial will be at Sunset Hill Memorial Estates in Glen Carbon.

Memorials are preferred and may be made to VITAS Hospice and may be accepted at the funeral home.
Obit Provided By:
Irwin Chapel Funeral Home