Eva Nellie Ida (Scheffel) Mueller
Nameoki Township | Sunday, August 24 2014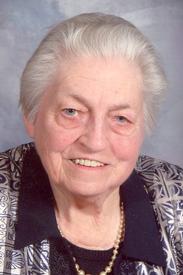 Eva Nellie Ida (Scheffel) Mueller, 92, of Nameoki Township, IL, born Aug. 7, 1922, in Alton, IL died on Sunday August 24, 2014.
Mrs. Mueller was a homemaker, farmwife, devoted mother, grandmother and great-grandmother. She was a member of St. John United Church of Christ; the Hill Toppers, and Order of the Rebekahs. She was also a 4-H leader and an avid gardener.
Mrs. Mueller was preceded in death by her husband Ervin Mueller whom she married Nov. 29, 1942; a son Ervin Henry Mueller; parents Frank Scheffel and Caroline (Prill) Scheffel; four brothers, Morris Scheffel, Truman Scheffel, Ralph Scheffel, and Harold Scheffel; two grandsons, two granddaughters and a son in infancy.
Surviving are four sons, Frank Mueller of Richmond, Va., Charles Mueller of Granite City, IL, Robert Mueller of Edwardsville, IL, Eugene Mueller of Columbia, MO, four daughters, Susan Rayhill of Mount Zion, IL, Janice Doza of Caseyville, IL, Mary Rhoades of White Heath, IL, and Martha Dorris of Granite City, IL, 19 grandchildren and 17 great grandchildren.
Memorials may be made to St. John United Church of Christ, Granite City, IL.
Visitation: Friends may call from 5 to 8 p.m., Friday, August 29, at Irwin Chapel, Maryville Road, Granite City, IL.
Funeral: Funeral Services will be held at 10 a.m., Saturday, August 30, at Irwin Chapel, Maryville Road, Granite City, IL with Rev. Karla Frost officiating. Burial will be in St. John Nameoki Road Cemetery, Granite City, IL
Obit Provided By:
Irwin Chapel Funeral Home