Eileen Brooks
Wood River | Sunday, October 16 2022 |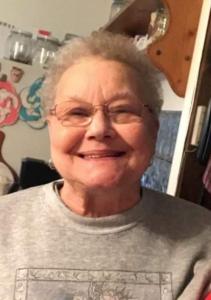 Eileen Mae Brooks, 85, has been called Home, Sunday, October 16, 2022.
Born April 29, 1937 in Adams, WI, she was the daughter of Fred A. and Edna M. (Shafman) Gerard.
Eileen worked 27 1/2 years for Owens-IL Glass Company before retiring. She later worked in the cafeteria for the Wood River-Hartford School District #15 as well as Bethalto Hardee's.
She married Robert Rollf and later married Harold Brooks. She had fun with her children, loved her dog, "Snowey" and liked to gamble.
She is survived by her children, Terry Lynn Thompson, Robbie Lea Santy, David Allen Rollf, Denise Kay Livezey; grandchildren, Nick Mayberry, Kacey Santy Serks, Derek Rollf, Ava Mae Rollf, Samantha Dugan, Jared Littlefield, Dustin wilson, Shane Wilson; great grandchildren, Jayden Nicole Trask, Shaylin Elizabeth Trask, Sabastian Renegade, Camille Eileen, Charleigh Kay'Lyn Noel, Kaylea Nicole, Cloe Mae, Ozcar James Littlefield, Olivander Fleigle; and sisters, Betty J. Dittburner in Wisconsin and JoAnn Walters in California.
Eileen was preceded in death by her parents; both husbands; son, Robert "Butch" Rollf; grandchildren, Tara Halford, Joshua Santy, Terry Wilson; and brother, Arthur Raymond Gerard.
Visitation will be from 9 am until time of service at 11 am, Friday, October 21 at Marks Mortuary in Wood River.
Cremation rites will follow the service.
Obit Provided By:
Mark's Mortuary