Eileen Landreth
Alton | Thursday, June 1 2023 |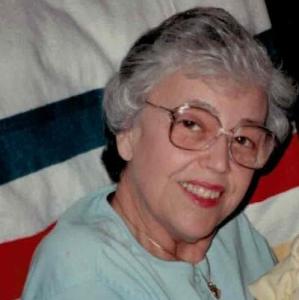 Eileen Lorraine Landreth passed away at 5:00 a.m. on Thursday, June 1, 2023 at Alton Rehabilitation & Therapy at the age of 100. She was born on September 10, 1922 in Alton, the daughter of the late Paul and Ann (Ridder) Smith. She was a lifelong resident of Alton and was a member of the 1940 graduating class of Alton Senior High School. As a young woman, Eileen worked as a payroll clerk for Sears & Roebuck in Alton. She later held a position in accounts receivable for General Motors, where she handled auto loan payments, taking the cash receipts to the bank by taxi each day. She retired in 1983 from a long career in the business office of St. Anthony's Hospital in Alton, where she was known for keeping meticulous hand-written Medicare logs, beginning in 1965 with the inception of Medicare.
In her earlier days, Eileen enjoyed live theater, world travel, and attending local dances with her friends. An avid St. Louis Cardinal fan, she watched the games with her son and grandson up until her last days. Eileen was a devoted daughter to her mother, Ann Smith, who lived with her for nearly fifty years after being widowed. She will be remembered as a fun-loving friend to many, and a caring mother and grandmother by her family.
During her residency at Evergreen Assisted Living in Alton, she made many dear friends among the residents and staff. The family is grateful for the compassionate help and friendship of Laura, Bill, and the entire Evergreen staff. The family also wishes to thank the professional and caring staff of Alton Memorial Rehab and Therapy.
She is survived by her son, Brian Landreth, his wife Mary Ann of Godfrey, her beloved grandson, Roger Landreth and Angela Landreth and two great-grandchildren, Ramona Eileen Landreth and Milo Harrison Landreth. She was preceded in death by her father, Paul L. Smith, her mother, Ann Marie Smith, a brother, Paul W. Smith, and several aunts, uncles, and cousins.
Visitation will be held Sunday, June 4, 2023 from 2:00 p.m.-4:00 p.m. at Gent Funeral Home in Alton. A private burial will be on Monday at Valhalla Memorial Park in Godfrey. In lieu of flowers, the family suggests memorial donations to Sisters of St. Francis of the Martyr George, Office of Mission Advancement, 1 Franciscan Way, Alton, IL 62002. Additional information and online guest book may be found at www.gentfuneralhome.com.
Obit Provided By:
Gent Funeral Home