Edna Griesbaum
Moro | Saturday, June 4 2022 |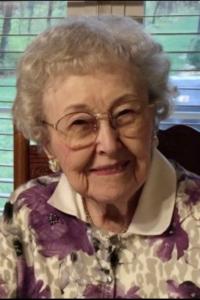 Edna Muriel Griesbaum, 106, died Saturday, June 4, 2022, at Asbury Village. She was born on May 30, 1916, in Moro, Illinois, to the late Howard M. Ellis and Medora M. (Sander) Ellis Brown.
Edna was a June, 1934 graduate of East Alton Wood River High School. The following year, she was employed at Schoeck Corresponding School. On January 9, 1937, she married Floyd Jones, and they shared 49 years together. After Floyd's passing, Edna married Alex Wright, who lived only a very short time after they married. Later, in 1994, Edna married Cecil Griesbaum, and they enjoyed many family gatherings with his daughter, son-in-law, and their large family.
Edna joined College Avenue Presbyterian Church in Alton in 1939, and was a member for well over 50 years, where she served as a Deacon and held offices in the Women's Organizations, receiving an Honorary Membership Award. When College Avenue Presbyterian Church merged with Wood River Presbyterian Church and became LoveJoy United Presbyterian Church, Edna transferred her church membership there.
Edna volunteered during World War II in the office of the Red Cross. She enjoyed volunteering for the White Cross Auxiliary in the Gift Shop at Alton Memorial Hospital for 25 years. She also volunteered for Pride, Inc., the Tutoring Program, Owens Illinois Glass Company Women's Auxiliary, and she was a member of the Alton Community Service League.
Edna enjoyed being a homemaker, sewing and crocheting, decorating her home, making curtains and slipcovers, and growing flowers. She appreciated and enjoyed her home. Edna belonged to the Widows group at Senior Services on McArthur in Alton. She supported Alton Little Theater and enjoyed many shows there over the years. She and Cecil also enjoyed many years of traveling with the Leisure Friends, a Senior Group through St. Paul's Episcopal Church in Alton, especially their trips to Branson. At 104 years of age, Edna was still receiving and reading the Alton Telegraph daily, and kept up with current events. She always liked visiting with friends and neighbors, as well as family get-togethers. Throughout the years, Edna had many good friends that she enjoyed, and who often stepped in when she needed help, for which she was grateful.
Edna was preceded in death by her first husband of 49 years, Floyd Jones, and her second husband, Alex Wright. She later married Cecil Griesbaum, who also preceded her in death on May 2, 2008, after their nearly 14 year marriage.
Edna was also preceded in death by her Father, Howard M. Ellis, when she was only 10 years old. Edna's Mother then married Orvil Brown, who also preceded Edna in death on November 5, 1985. Edna's Mother, Medora, preceded her in death on July 11, 1992.
Surviving are Cecil's daughter, Jo (Griesbaum) Greenwood, and Jo's husband, Arthur Greenwood, of Godfrey, and six of their seven children and their spouses: Scott (Megan) Greenwood of Godfrey, Dr. Col. Jay (Kellene) Greenwood of Georgia, Darren Greenwood of Wisconsin, Holly (John) Rain, Jr. of Godfrey, Ann Margaret "Buffy" Greenwood (deceased), Maryann (Troy) Kelley of Godfrey, and Amy (Tad) Holt of Iowa. Edna is also survived by 13 Great Grandchildren: Jessica (Matt) Baumgartner, Daniel Greenwood, MaryGrace (Bradnen) Sims, Simon Greenwood, Victoria Sawlsville, Sarah Kinder, Craig (Katie) Kinder, John (Caitlin) Kelley, Matthew Kelley, Madelyn Kelley, Amber Holt, Hannah Holt, and Harrison Holt. Edna is also survived by four Great, Great Granddaughters: Eden, Josie, Jayda, and Brynle, and one Great, Great Grandson, Theodore. Also surviving Edna are two Granddaughters from her marriage to Alex: Kara Conrad and Kacy Phillips, and their families. In addition, Edna is survived by nieces, nephews, and cousins, including her cousins Cathy Beetz, Sandy Connoyer, and Larry Boettger.
In celebration of her life, visitation will be Saturday, June 11, 2022, at 9:00 a.m., until services at 10:00 a.m., with Rev. Daniel Ervin officiating, at LoveJoy United Presbyterian Church, 2550 Rock Hill Road, Wood River, IL. Internment/burial will follow at Upper Alton Cemetery.
Memorials may be given to LoveJoy United Presbyterian Church, or a charity of one's choice. Elias, Kallal, and Schaaf Funeral Home in Alton is in charge of arrangements.
Online condolences and guest book may be found at www.kallalandschaaf.com
Obit Provided By:
Elias, Kallal & Schaaf Funeral Home