Edith Cousins
Roxana | Wednesday, June 17 2015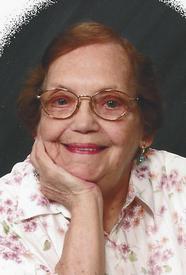 Edith Irene Cousins, 90, passed away peacefully at 7:55 p.m., Wednesday, June 17, 2015 with her children by her side at Rosewood Care Center of Alton.
She was born on August 25, 1924 in Wood River, the daughter of the late Clarence William and Clara (Scott) Swarringim.
She married Clarence E. Cousins on November 14, 1951 in Alton. He preceded in death on June 4, 2006.
She is survived by a son, Scott E. Cousins; a daughter, Marsha D. Walker; six grandchildren; 14 great grandchildren; 12 great-great grandchildren; and a sister, Phyllis Greenwood.
In addition to her parents and husband, she was preceded in death by a son, Carl Eugene "Bubby" Shewmake (1953); a daughter, Carol Ann Smith (1987); grandson, Jeffrey Scott Smith (1978); son-in-law, Carl W. Walker (2014); four brothers, Clarence E. "Bud" Swarringim (1985), Donald Lee Powless (2010), LeRoy Swarringim (1933), a brother in infancy; ten sisters, Mildred Miranda Howard (1941), Mary Jane Buhs (2000), Marion Frances Mittler (2003), Marguerite Greeling (2012), Naomi Ruth Smith (1995), Esther Geraldine Swarringim (2005) and four sisters in infancy.
Graveside services will be conducted at 10 a.m. Monday, June 22 at Valhalla Memorial Park in Godfrey. Rev. Joel Frymire will be officiating.
Memorials may be made to 5 A's Animal Shelter, 4530 N. Alby St, Godfrey, IL 62035.
Marks Mortuary in Wood River is in charge of arrangements.
Obit Provided By:
Mark's Mortuary