Dr. Marion Joseph Gauntt
Jerseyville | Saturday, November 8 2014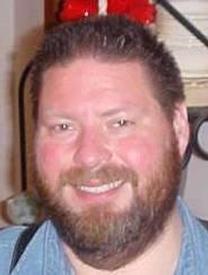 Dr. Marion Joseph Gauntt, passed away November 8, 2014 at Des Peres Hospital in St. Louis at the age of 52. Marion was Born to Lillie Mae (Pitts) and Clifford Joseph Gauntt in Alton, Illinois on February 12, 1962
Marion grew up in Alton. He was proud to have become an Eagle Scout at the age of 13.
He graduated from high school a year early and represented his church as a missionary in Argentina at the age 18. Marion was a Lifelong member of The Church of Jesus Christ of Latter Day Saints. He gave of himself over the years as elder, teacher, choir member and choir director.
Marion married the love of his life, Penny Lynn Fugate at the Mormon Temple in Chicago on February 17, 1988. Together they raised their children Joseph Aaron Gauntt and Elizabeth Ann Gauntt.
Marion studied hard and completed his Doctorate of Chiropractic from Logan College of Chiropractic in 2002. He took his family and followed his dreams to set up practice in Wyoming and Alaska. He loved his family, hunting, camping, collecting guns, singing and playing piano. His recent years were filled with the joy and love of his grandchildren Arianna Jeanine Manning and Hayden Michael Brittin.
In addition to his wife and grandchildren, Marion is also survived by his son Joseph and his girlfriend Natalie Rene Newell, his daughter Liz and her husband Larrell Jamar Johnson, brother Clifford Adrian Gauntt and his wife Barb, nieces and nephews Christa Burns, Celeste Gauntt, Clair Bean, Cathleen Gauntt, Clifford David Gauntt, Jonathan Daniel Gauntt, and Clifford Blaise Gauntt.
In addition to his parents Clifford Joseph and Lillie Mae Gauntt, Marion was preceded in death by his mother and father-in-law John and Betty Fugate.
A visitation will take place at the Church of Jesus Christ of Latter Day Saints at 6500 Humbert Road in Godfrey, Illinois from 4:00 p.m. to 8:00 p.m. on Thursday, November 13, 2014. A celebration of Marion's life will take place at 10:00 a.m. on Friday, November 14, 2014 at the church with Bishop David Hargiss officiating. Burial will take place at Valhalla Memorial Park in Godfrey, Illinois. Alexander and Gubser Funeral Home is coordinating arrangements. Memorial may be made to the family or to Marion's beloved church.
ALEXANDER & GUBSER FUNERAL HOME IN CHARGE OF ARRANGEMENTS
Obit Provided By:
Alexander and Gubser Funeral Home