Dorothy Oberdieck
Glen Carbon | Tuesday, May 30 2023 |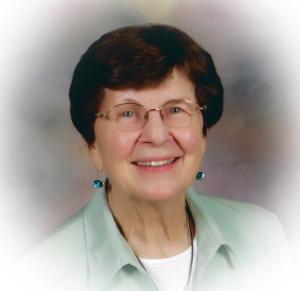 Dorothy Joyce (nee Wendler) Oberdieck, age 85 of Glen Carbon, IL, born January 27, 1938 in Collinsville, IL, passed away on May 30, 2023 at her apartment at Meridian Village Memory Care.
Dot was a retired homemaker, and previously was a classified ads manager for the Collinsville Herald Journal. She was the first teller that St. Louis Mercantile Bank trained to use a computer. She was a member of Good Shepherd Lutheran Church in Collinsville, IL. She volunteered in so many roles within her church and throughout her children's activities. She was a Girl Scout leader, made costumes and painted sets for drama, baked pies and cakes for many church functions, and volunteered with Lutheran Braille Workers. She enjoyed gardening, camping, traveling, and was an accomplished home cook.
Dorothy was preceded in death by her parents, Carl Emil Wendler and Bertha Elizabeth (nee Shwedes) Wendler; a brother, Carl Wendler, Jr.; and sister, Emilie Rolfe, and her husband of 52 years, Norman Louis Oberdieck, whom she married on January 19, 1963.
She is survived by a son, Brian (Emma) Oberdieck of Elizabeth, IN; two daughters: Lynne (Leonard) Ernst of Worden, IL, and Amy (Chris) Hathaway of Plato, MO; seven grandchildren: Timothy (Josie), Daniel, and Joshua Oberdieck, Viki and Ana Ernst, Conner (Ashley) and Caeden Hathaway; and two great-grandsons: Carter and Silas Hathaway; sisters-in-law, June Oberdieck, Thelma Randall, Ingrid Oberdieck; numerous nieces and nephews.
Visitation will be from 10:30 a.m. to 12 noon on Saturday, June 3, 2023 at Good Shepherd Lutheran Church, 1300 Beltline Road, Collinsville, IL, with funeral service to follow at 12 noon, Rev. Michael Walther officiating. Burial will be in Sunset Hill Cemetery in Glen Carbon, IL. Funeral arrangements will be provided by Barry Wilson Funeral Home.
Memorials may be made to Unity Lutheran School, or St. Louis Theological Seminary for support of seminary students and will be received at the visitation or can be mailed to Barry Wilson Funeral Home, 2800 N. Center Street, Maryville, IL 62062.
Condolences may be expressed to the family at barrywilsonfuneralhome.com.
Obit Provided By:
Barry Wilson Funeral Home & Cremation Services