Deacon James Stuart Bell
Basking Ridge, NJ | Sunday, October 10 2010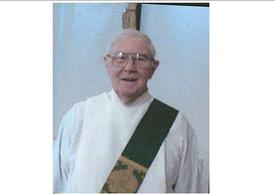 Deacon James Stuart Bell went home to the Lord on his 85th birthday, October 10, 2010 in Basking Ridge, New Jersey.
The son of the late Clifford & Kate (Powers) Bell, James grew up in Jersey County and attended St. Francis Xavier Grade School and Jersey High School. After his time in the service, he married Kathryn Diestlekamp in 1950 and left the area to pursue his career. Known for his love of Christ and passion for the Catholic church, Jim was ordained as a Deacon of the Church in May of 1978. He was both a member and Deacon of the St. James Parish in Basking Ridge. Bishop Huges presided over James funeral service on Friday, October 22, 2010, and the next day, James was laid to rest in the Holy Cross Cemetery in Basking Ridge.
He is survived by hiw wife, children, Jim & Cate; a sister, grandchildren, great-grandchildren, cousins, nieces, nephews and many friends. His parents, step mother, Eleanor Bell, and a sister & brother in law, John & Priscilla Powers preceded him in death.
A Mass of special intentions will be held for James Bell at the St. Francis Xavier Catholic Church in Jerseyville on Friday, November 12, 2010 at 8:15 a.m. with Father Patrick Gibbons presiding. Memorials may be given to the St. Francis/Holy Ghost Catholic Schools of Jerseyville in care of Crawford Funeral Home in Jerseyville.

His broad smile, clever humor, and kind words will be sadly missed by his family and friends.
Obit Provided By:
Crawford Funeral Home