David Owens
Hartford | Friday, April 29 2022 |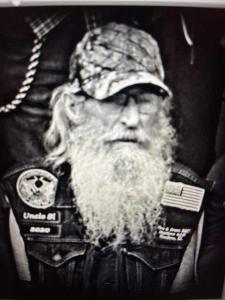 David Wayne Owens, Sr., 67, passed away Friday, April 29, 2022, at his son's home in Brighton.
Born October 9, 1954, in Wood River, he was the son of Buddie Lee and Ethol (Howard) Owens.
A U.S. Army veteran, he served with the 3rd Armored Calvary and then worked in the maintenance department of Alton School District for 32 years before retiring in 2017.
Dave "Uncle Si" was known for his incredible spirit, meandering talks, unforgettable laugh, and especially for the love he had for his kids and grandkids. Since his retirement, most of his days were spent in his shop that he had well-kept and always had many projects to work on. He had many inventive creations, always tinkering, usually accompanied by the blasting Traditional Indian or Irish music and other awesome jams...from an awesome sound system of course.
When he wasn't in the shop, he enjoyed riding his trike. A few years ago, he joined the Fire and Iron M.C. and found the love and Brotherhood he had while in the Army and while serving 20 years on the Hartford Volunteer Fire Department. His trike was one of a kind. Every trip or ride he was on, he met many people by the sheer interest in his 3-wheeled machine.
His family and friends have the most amazing memories of traveling the country with his grandkids, camping, listening to music, going to their games, or simply enjoying a beautiful and genuine soul.
To his grandchildren, Grandpa always provided life advice and guidance to them that he had gained from his own personal experience or from how he was raised. One quote that he was often heard saying was, "Never promise anyone anything, always say, I'll do my best."
"Anybody can take anything from you, but nobody can take your word, you have to give that way."
Surviving are sons, David Wayne, II (Krista) Owens of Brighton, William Joseph (Lindsey) Owens of Hartford; grandchildren, David Wayne Owens, III, Olivia Owens, Wyatt Owens, Elliott Owens, Autumn Owens; brother, Jimmy Owens of Roxana; sisters, Joyce Fortin of Royalston, MA, Lois Herbert and Claudia Albert both of Templeton, MA, Kay Finkbeiner of Memphis, TN, Margie Johnson of Hartford; and several nieces and nephews.
He was preceded in death by his parents, and a brother, Thomas Owens.
Visitation will be from 3-7 pm, Friday, May 13 at Marks Mortuary in Wood River, where the funeral service will be held at 10 am, Saturday. Pastor David Fields will officiate.
Burial will follow in Rose Lawn Memory Gardens in Bethalto led by members of the IL Patriot Guard. Alton VFW Post 1308 will present military honors.
Memorials are suggested to St. Jude Children's Research Hospital.
Obit Provided By:
Mark's Mortuary