Daniel Wallace
Grafton | Saturday, October 1 2022 |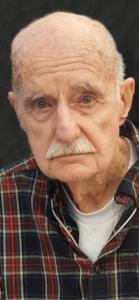 Daniel Ross Wallace, 86, died at 3:25 p.m., Saturday, October 1, 2022, at Jerseyville Manor.
He was born on July 17, 1936, in Alton, Illinois. Daniel was the son of the late Ross and Margaret (Carr) Wallace and grew up on the family farm along with his two brothers.
Daniel was a United States Army Veteran and was employed as a Steel Estimator at Federal Steel for 43 years, prior to his retirement. He enjoyed traveling, with Colorado and Montana being among his favorite destinations, and anyone who knew him could attest to his love for the St. Louis Cardinals.
Although he never had any children of his own, Daniel is survived by his nieces and nephews who cared for him deeply: Ross (Carolyn) Wallace of Val Rico, Florida, Sandi (Mike) Flowers of Grafton, Laura Lester of Grafton, Kenny Wallace of Jerseyville, Beth Mundy of Jerseyville, Kevin (Cheryl) Wallace of Alton, Kathy Kunz of Alton, Sara (Dennis) Taylor of Brighton, Jeff (Mary) Wallace of Montana and Greg Wallace of Montana; along with a host of great nieces and nephews.
In addition to his parents, he was preceded in death by two brothers and sisters-in-law, Gene Carroll and Babs Wallace and Robert James and Jo Wallace; two nieces, Jacque Scroggins and Paula Wallace; as well as three nephews, Greg Mundy, Eddie Lester, and Ed Kunz.
Private services will be held.
Memories may be shared with the family by visiting www.crawfordfunerals.com
of Roodhouse and Walter and Marilyn Stucker of Alton; along with numerous nieces and nephews.
In addition to his parents, he has preceded in death two brothers, John Stucker and Roy Stucker Jr.; four sisters, Bessie Filkin, Helen Surratt Owens, Nelly Meyers, and Dorothy Allen.
Visitation will be held from 9 a.m. until the time of funeral services at 11 a.m., Thursday, October 6, 2022, at Crawford Funeral Home in Jerseyville with Pastor John Gibson officiating.
The family kindly request no flowers or plants, but rather that expressions of sympathy be made in the form of a memorial to Eastland Baptist Church in Jerseyville, in the care of the funeral home.
Memories may be shared with the family by visiting www.crawfordfunerals.com
Obit Provided By:
Crawford Funeral Home