Clarence "Little Danny" Hawkins, III
Wood River | Sunday, December 31 2017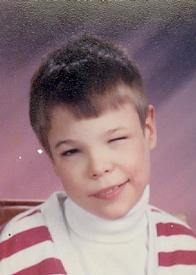 Clarence "Little Danny" Hawkins, III, 36, died at 7:10 a.m. Sunday, December 31, 2017.
Born Nov. 26, 1981, he was a son of Kathi and Danny Hawkins, both now deceased. Danny was born a triplet. His brother Jared preceded him in death and his sister, Jessica Hawkins survives. His older sister Karly Floyd also survives, as well as aunts Vicki Garvey of Edwardsville, Julie McGinnis of Medford, OR, Grace Eckstein of Alton, an uncle David (Teresa) Hawkins of East Alton, grandfather Clarence Hawkins of Mt. Vernon, IL, many beloved nieces and nephews, Christian, Jayln, Payton, Kensley, Makynna and Jaryn, and numerous cousins, Erica, Melissa, David, Jeff, Kyle, Chase, Tarrah, Duston, Kaleigh, Brooklynn, Hope, Nathan, William and Shannon.
In addition to his parents and brother, he was preceded in death by grandparents Barbara Goode Easley, Robert Goode, and Georgianna Hawkins, an uncle William Hawkins, and a cousin, Shawn Carroll.
Visitation will be Thursday, Jan. 4 at Paynic Home for Funerals from 9 a.m. until services begin at 10 a.m. Chaplain Jason Pierce will officiate. Burial will follow at Woodland Hill Cemetery in East Alton.
Memorials may be made to BJC Hospice Foundation-Alton, PO Box 957421, St. Louis, MO 63195.
An online guestbook is available at www.paynicfh.com.
"Then will the eyes of the blind be opened and the ears of the deaf unstopped. Then will the lame leap like a deer and the mute tongue shout for joy." So happy that Danny will now be able to see all the beautiful things in heaven and be able to run and jump into the arms of his beloved mother Kathi.