Charles Bertels
Dorsey | Thursday, August 24 2023 |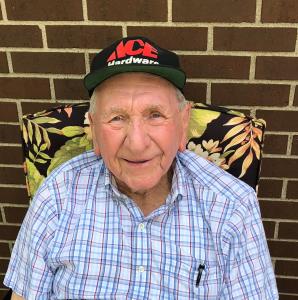 Charles Henry Bertels, our dad, Charlie, passed away on August 24, 2023 under the care of BJC Hospice at Alton Memorial Hospital.
Dad was born October 10, 1937 at home in Dorsey, IL to William D and Minnie P (Johnson) Bertels. He was the youngest of four. The true baby with eleven years between dad and his youngest brother Bob. D
ad chose a different route than the family farm. He graduated from Bunker Hill High School at the age of 16 and later served in the Army Reserves at Ft Leonard Wood, MO until May 3,1958 when he and our mom, Norma (Miller) eloped to Hernando, MS. This year they celebrated 65 years of marriage. Together they had the four of us, Dale (Lynette) Bertels, Dana (Lisa) Bertels, Darryl Bertels and Angela Wright (Ray). They were blessed with grandchildren Melinda (Ricky) Ludwig, Drs Kyle (Bo) Wright, Nicholas (Becca) Bertels, Ethan (Tiffany) Wright, Megan Wright (Hadley) and Lena, two great granddaughters Madelyn Quinn Bertels and Josephine Wyoming Ludwig. Dad is also survived by two sisters-in-law, Marilyn Bertels and Linda Miller, step-grandson, Billy DeConcini, and step-great grandsons, Will and Dylan DeConcini.

In his earlier years, dad worked for Alton Brick Co and later Omark Industries before finding his niche in real estate. He was a licensed agent, broker and an appraiser, working for many agencies over a vast 50-year career. Wooff Realty, Don Bryant Gallery of Homes, Ira E Berry, Coldwell Banker Paslay Realtors and most recently Landmark Realty. Dad still had an active brokers license and contemplated retiring next April. In 1980, Dad even delved into his own real estate company, Future World Realty. He also served as a past President of the Alton-Wood River Board of Realtors. Dad taught Sunday School, umpired Khoury League and served many years as a Madison County Election Judge. He selflessly donated many liters of blood until he was no longer able to Mom was the cook, but Dad did the grilling. He cranked a lot of homemade ice cream for us as kids and never missed a Cardinals game. You always knew when dad was around, either honking at you driving by in his little red truck or whistling when he walked through the door. He will be missed immensely, by us and by many.

Dad was predeceased by our mom, his wife, Norma, parents; William D and Minnie P Bertels, father and mother-in-law; Aden and Virginia (Grizzle) Miller, brother-in-law; Aden Wm (Bill) Miller, siblings; Leonard (Edna May) Bertels, Lena (Ed) Rust, Robert Bertels and daughter-in-law Cathy Bertels. Can you imagine their reunion in heaven!
Visitation will be on Thursday, August 31, 2023 at Zion Lutheran Church, Bethalto from 10:00 am until 12:00 pm. Funeral services are Thursday, August 31, 2023 at 12:00 pm at Zion Lutheran Church, Bethalto. Burial will be at Emmaus Lutheran Cemetery, Dorsey, IL. Memorials are suggested to Zion Lutheran Church and School, 625 Church Drive, Bethalto, IL 62010. Anyone wishing to send an online condolence may do so at www.kravanyafuneral.com.
Kravanya Funeral Home, Bunker Hill, IL is in charge of the arrangements.
Obit Provided By:
Kravanya Funeral Homes