Catherine Losch
Roxana | Thursday, May 19 2022 |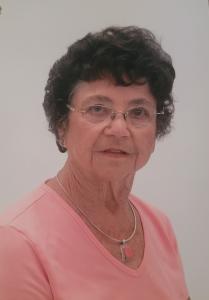 The end of an era, Catherine Norma (Shafer) Losch, age 98, Matriarch of the Losch Farms Family passed away Thursday, May 19th, 2022 at 10:35 am, in her home surrounded by her family. She led a full life and a legacy that will live on forever. Catherine, also known as Kay to most, was born to Robert William Shafer and Pauline Helen (Schnyder) Shafer on September 28th, 1923. Growing up on a small family farm in Poag, Illinois, she attended Edwardsville High School and met Charles Clifton Losch. The two were married on August 27th, 1940, in Troy, Missouri.
The two were the owners and operators of Losch's Farm, where they grew melons and other produce. People would come from miles around to get a sweet juicy cantaloupe and watermelon. Fall was Kay's favorite season. The pumpkins, fall colors, and her famous apple and pumpkin pies were just a few of the many items you would find in the shed during October. They hosted corn fest and were very active in the community. Both of them were proud members of the Madison County Farm Bureau and were involved in many organizations. They worked many hours on the farm but always had time for friends, family, and community. Kay was a member of Madison County Association Home & Community Education, University of Illinois Extension, Women of the Moose Wood River Chapter, and Farm Bureau Women's Committee and proud Co-Author of the "Cookbook 25 Years-Women of the Farm Bureau" Kay was an active representative of the local farm bureau in State Meetings, voting for Chouteau Township. She was also a very proud farmer's wife, loved hosting parties, and enjoyed her time out of the town with her husband while he was on the Bank of Edwardsville Board, Director for the Bank of Edwardsville, President and Board Member of Madison County Farm Bureau and Roxana Community Unit School District Chair. Kay also loved attending Wanda United Methodist Church and enjoyed fellowship in the small congregation in one of the oldest, small churches in the area. Kay enjoyed crafts of all kinds and often donated blankets and hats to local hospitals for ill patients.
Kay was preceded in death by her husband in 1994. They had four children. Eldest Son Charles Gene Losch and Carolyn Losch of Roxana, her daughter Barbara Lynn (Losch) and Felix Floyd of Roxana, Debra Jones Losch of Roxana.
She was preceded in death by Baby Losch in 1947 and her youngest Fred William Losch in 2012.
Also surviving are four grandsons, John Losch, Craig Floyd, Mark (Kathy) Losch, and Jarrod (Nicole) Losch. She has three granddaughters, Brandy (Andi) Losch, Tally (Jason) Wright, and Wendy (Brian) Floyd-Adams.
Kay loved having a big family. She was very proud of all of her great-grandchildren. She would tell everyone that she had 15. She would brag about their accomplishments, going down the list of Taylor, Dylan, Tyler, Kayley, Whisper, Stormy, Anthony, Sarah, Summer, Zoey, Zander, Zane, Lucas, Skylah, and Brylee. She recently celebrated learning of the soon-to-be 5th generation arrivals in late summer 2022 (Whisper & Tyler Wright) and winter 2022 (Taylor & Christian Johnson).
In celebration of her life, visitation will be from 10 am until the time of funeral services at 12pm on Monday, May 23, 2022, at Pitchford Funeral Home in Wood River. Rev. Dr. Cary Beckwith will officiate. Burial will follow at Sunset Hills Memorial Estates in Glen Carbon.
In lieu of flowers, memorials may be made to Wanda United Methodist Church or 5A's Animal Rescue and will be accepted at the funeral home.
Obit Provided By:
Pitchford Funeral Home