Catherine L. Farrell
formerly Wood River | Sunday, February 7 2016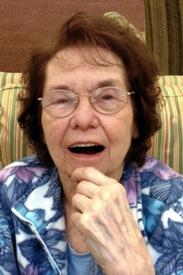 Catherine L. Farrell, age 89, of Maryville, IL, formerly of Wood River, IL, Lansing, IL and Northbrook, IL, passed away on February 7, 2016 at Liberty Village, Maryville, IL. Catherine was born on July 9, 1926 in Brussels, IL, a daughter of the late John and Hattie (LaMarsh) Schleeper.
Catherine was of the Catholic Faith. She was a housekeeper at the rectory at St. Ann's Church in Lansing, IL and at Our Lady of the Brook in Northbrook, IL. She had also worked for Owens Illinois glass works for twenty years. Catherine loved life, she loved to laugh, but most of all she loved her family. She will be sadly missed by all who knew and loved her.
In addition to her parents, Catherine was preceded in death by one sister, Mary Lou Luketich.
She is survived by her loving children, Sharon Best of Enfield, NH, Rod Farrell of Hazelwood, MO, Chris Farrell of San Diego, CA and Mark Farrell of Godfrey, IL; dear sisters, Doris Rafaelle of Glen Carbon, IL and Patricia Reinfried of Prescott, AZ; proud grandmother to seven grandchildren and fourteen great-grandchildren; extended family and friends.
Visitation will be held from 5:00 p.m. until 8:00 p.m. on Thursday, February 11, 2016 at Irwin Chapel, 591 Glen Crossing Road, Glen Carbon, IL.
In celebration of her life, funeral services will be held at 10:00 a.m. on Friday, February 12, 2016 at Irwin Chapel, performed by Father Joseph Havrilka. Interment will be in Calvary Catholic Cemetery, Edwardsville, IL.
In lieu of flowers, memorial donations may be given to Alzheimer's Association or to the charity of the donor's choice and donations will be accepted at the funeral chapel.
Condolences may be expressed to the family online at www.irwinchapel.com.
Obit Provided By:
Irwin Chapel Funeral Home