Betty Ann Williams
Worden | Wednesday, May 9 2018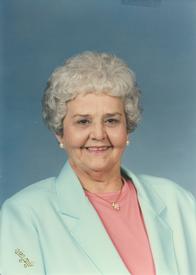 Betty Ann Williams, 88, passed away at 7:53 p.m. on Wednesday, May 9, 2018, at DePaul Hospital in St. Louis, MO.
She was born on June 9, 1929, to Milton and Bertha (Weber) Barnes.
She married Lloyd Williams on June 28, 1947. She is survived by their four children, James Allen Williams (wife Lona) of Laurinburg, NC; Lloyd Lee Williams of Las Vegas, NV; Michael Steven Williams (wife Tina) of Peoria, IL; and Barbara Lynn Anderson (husband Ron) of Worden, IL.
Her late husband, Lloyd Williams, was killed in a work accident on August 16, 1968. She was married to Robert Maedge from 1969 until their divorce in 1976. She married Joseph Kostowski on April 27, 1985, until his death on April 19, 1996. Her only brother, Calvin Barnes, passed away on September 23, 1997.
She was delighted by the presence of her eleven grandchildren, eighteen great-grandchildren, and four great-great-grandchildren. She lived her 88 years to the fullest by traveling, attending church activities at Zion Lutheran Church in Bethalto, playing Bingo, cheering for the Chicago Cubs, and playing cards with her friends and family. Family was everything to her and if wealth were measured in friends and family, she would have been the richest woman on Earth.
Services will be at Zion Lutheran Church in Bethalto on Saturday, May 19, 2018. A visitation will be held from 10:00 a.m. to 12:00 p.m. A service officiated by Pastor Willard Meyer will follow the visitation.
Private interment will be at McInturff Cemetery.
In lieu of flowers, please make a donation in her name to the St. Jude Children's Research Hospital.
Professional services entrusted to Paynic Home for Funerals, with online information and guestbook at www.paynicfh.com