Amie Riffey
Alton | Thursday, April 29 2021 |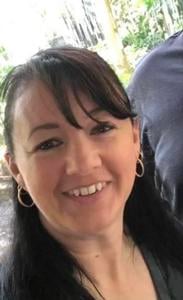 Amie L. Riffey, 50, died at 10:22 a.m. Thursday, April 29, 2021 at her home in Alton. Born August 22, 1970 in Alton she was the daughter of Henry D. and 'Madolyn' Kay (Cowgill) Bush of Alton. She married Kevin D. Riffey in Alton on June 24, 1995. He survives.
Along with her parents and husband, she is survived by three children, Henry F. Roe III (Lindsey Nicole) of Bethalto, Travis D. Riffey (Erin Renee) of Alton, and Brendan S. Riffey of Alton, eight grandchildren, Henry F. Roe IV, Gracyn Sophia Roe, Lincoln Vann Roe, Addelynn Mae Riffey, Levi Dean Riffey, Jackson Tate Riffey, Gunnar Smith Riffey, and Serena Belle Riffey. She is also survived by a brother, 'Henry' Douglas Bush (Kristy) of Brighton, two sisters, Michelle L. Blom (Jason) of Moro, and Jennifer K. Johnson of East Alton, her mother-in-law, Peggy Voumard of Alton and her brother-in-law, Carl Riffey of Alton.
Visitation will be from 4:00-8:00 p.m. Monday, May 3, 2021 at Abundant Life Christian Center in Alton where funeral services will be at 10:00 a.m. Tuesday, May 4, 2021. Reverend Roy Rhodes will officiate. Memorials may be made to Kevin Riffey to be put towards a park bench which will be placed around the pond at Rose Lawn Memory Gardens. Burial will be at Rose Lawn Memory Gardens in Bethalto. Gent Funeral Home in Alton is in charge of arrangements.
Online guestbook and information may be found at www.gentfuneralhome.com
Obit Provided By:
Gent Funeral Home