Alberta Quirk
Medora | Monday, March 15 2021 |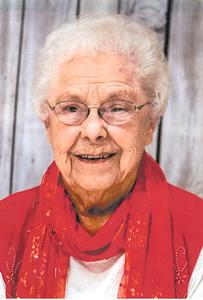 Alberta "Janie" Shuey Quirk, 98, of Medora passed away at 4:18 a.m., Monday, March 15, 2021 at Jersey Community Hospital, Jerseyville.
She was a homemaker, devoted farm wife, loving mother, and grandmother.
Janie was born January 15, 1923, in Gillespie, IL to George Wesley and Lula Blevins Shuey. She graduated from Gillespie High School in 1940. After graduating high school she worked as a waitress at The Blue Danube in Litchfield and as a switchboard operator. She also worked at The Western in East Alton during World War II.
On March 15, 1942, she married Donald Brueggemann in Kahokia, MO, 4 years later they had their first and only child, Donna. Donald passed away on October 17, 1947. Janie later married John W. Quirk on July 29, 1950, at St. Denis Rectory in Shipman, IL. They shared 48 happy years of marriage together. Janie and John were proud supporters of Southwestern High School basketball and never missed a game for years. She worked side by side with her husband on their family farm outside of Medora in Jersey County. Janie was a talented seamstress and a wonderful cook. She was well-known for her angel food cakes, lemon pies, and homemade chicken and noodles. She was a 4-h leader and taught many in the community to cook, bake, sew, and crochet, including her daughter and granddaughters.
She also loved to quilt. Not only did she spend many hours with the altar society making quilts, but she also managed to make quilts for family members which are now beloved heirlooms. She was devoutly dedicated to her faith, which she made evident in how she lived her life. Janie was always willing to lend a hand to anyone in need. She was devoted to her family, as they were the light of her life. She made many a dress for her daughter and grandchildren. She was also an active member of the Jersey County Homemakers Extension Association, Royal Neighbors, and St. John's Alter Society.
She is survived by her daughter Donna (Robert) Moore of Medora. Grandchildren Mike (Sharol) Moore of Medora, Kathy (Rocky) Ryan of Nashville, TN, Kari (Dave) Burns of Medora and her great-grandchildren Hanna and Jenna Moore and Samantha and Abbey Burns.
Sisters, Daisy Spendlove of Roy, UT, Patty (Jack) Dillard and Diana (Ronald) Durbin of Gillespie, and Sister-In-Law Rosalie Shuey of Wilsonville and several nieces and nephews.
She was preceded in death by her parents, both husbands; brothers Ted Shuey, Ed Shuey, Marvin Shuey, and Jim Shuey; sisters Laverna Caveny, Marian Duda, Georgia Shuey, and Joan Martin; Nephews Albert and Gene Alpi and niece Corrine Shuey.
Visitation will be held at Crawford Funeral Home, Jerseyville, IL on Wednesday, March 24, 2021 from 4 to 7 p.m.
A funeral mass will be held at St. Francis Xavier Church Jerseyville, IL on Thursday, March 25, 2021 at 10:00 a.m.
Burial will follow at St. Francis Xavier Cemetery in Jerseyville.
Memorials can be made to Southwestern Sports Boosters and Jersey County 4-H Foundation.
Memories may be shared by visiting www.crawfordfunerals.com
Obit Provided By:
Crawford Funeral Home