Roxana, CM Boys Cross Country Teams Grab Regional Titles
October 23, 2023 4:27 PM
October 23, 2023 4:49 PM
Listen to the story
Roxana won the Class 1A boys cross country meet at Trenton Wesclin, while Father McGivney Catholic and Metro-East Lutheran qualified as teams for the sectional, while Civic Memorial won the Class 2A meet at Highland.
Get The Latest News!
Don't miss our top stories and need-to-know news everyday in your inbox.
Here are the results of each of the meets where local teams were involved:
CLASS 1A AT TRENTON WESCLIN
Roxana, McGivney and Metro-East all qualified for the sectional next week at Benton with top five finishes, while no individual qualifiers came out of the meet.
The Shells won with 56 points, with the Griffins second at 61 points, Belleville Althoff Catholic was third at 63 points, Centralia Christ Our Rock Lutheran was fourth at 129 points and the Knights came in fifth, the last team qualifying spot, with 139 points. Staunton was ninth with 218 points, Piasa Southwestern finished 10th at 234 points and East Alton-Wood River came in 11th with 255 points. Maryville Christian and Marquette Catholic also had runners in the race, but not enough to record a team score.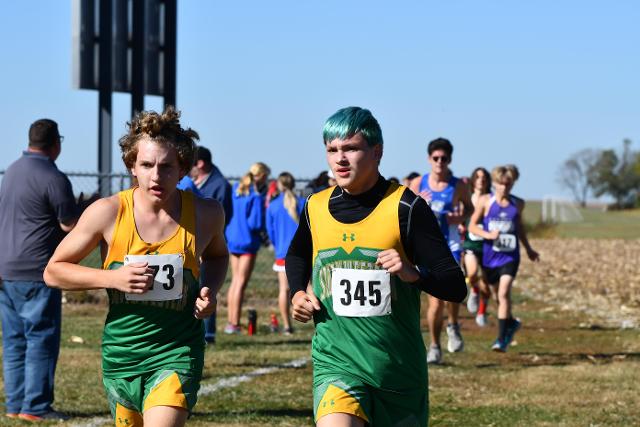 Elijah Gregory of the Silver Stallions won the individual title with a time of 16:11.6, while Hunter Ponce of the Shells was second at 16:12.2, third place went to the Knights' Lucas Abbott at 16:42.9, in fourth place was Roxana's Wyatt Doyle at 16:46.9 and rounding out the top five was Liam Schmidt of the Griffins, who had a time of 16:48.7.
To go along with Ponce and Doyle, Roxana saw Anthony Hardin in at 17:25.3, Noah Smih's time was 17:30.3, Noah Crump came home at 17:50.8, Aaron Shields had a time of 18:08.1 and Noah McVey was in at 18:22.8. In addition to Liam Schmidt's time, the Griffins had Levi Huber in at 17:08.6, Connor Schmidt came home at 17:09.5, Alden Schmidt was in at 17:35,7, Liam Boeving had a time of 17:37.8, Gus Range was in at 18:42.5 and Jackson Ehrman had a time of 20:59.7.
Article continues after sponsor message
In addition to Abbott's third-place time, the Knights had Wyatt Goeckner in at 18:09.1, Adam Broekemeier had a time of 18:14.8, Jack Shank came home at 18:40.5, Dean Hemmer was in at 18:47.5, Jayden Glasper's time was 19:00.1 and Lucas Getta came in at 20:52.2. Peyton Luketich of the Bulldogs advanced to the sectional as an individual with a time of 17:56.9, while Rhyse Rucker was in at 18:14.5, Aiden Green had a time of 18:57.6, Thomas Ogata came in at 19:40.9, Bryan Podwojski had a time of 20:12.8, Jaydon Hausman's time was 20:57.8 and Trevor Myers had a time of 21:00.8.
Bram Beuttel led the Piasa Birds qualified for next week's sectional as an individual with a time of 18:12.5, while Thor Springman had a time of 18:25.8, Garrett Beuttel was in at 18:42.1, Zach Rue had a time of 20:24.6, John Nolan was in at 20:39.0 and Chase Miller had a time of 21:09.7. Isaiah Simpson-Kolber went through to the sectional for the Oilers as an individual with a time of 18:07.5, while Evan Baker came in at 18:36.4, Jamal Burgess, Jr. had a time of 19:01.3, Kirk Lane was in at 19:48.7, Jack Gould came in at 24:07.3 and Kaden Brown had a time of 25:28.8. The Lions' only runner, Noah Jacob, advanced to the sectional with a time of 17:25.1, while the Explorers had Owen Page in at 21:19.5 and Rodger Zawodniak home at 22:55.6, but neither runner qualified for the sectional.
CLASS 2A HIGHLAND MEET AT FIREMAN'S PARK, ALHAMBRA
Civic Memorial won the team championship at the Highland regional with a score of 56 points, with Mascoutah second at 81 points, Triad third at 92 points, Waterloo was fourth with 96 points and Highland claimed the final team spot with 116 points. East St. Louis came in 11th with 288 points and Jersey was 12th with 321 points. Cahokia also had runners who competed, but not enough to record a team score.
The Eagles' Max Weber was the individual winner with a time of 15:21.6, with Drew Twyman of the Knights second at 15:31.6, Carbondale's Zion Wilkins was third at 15:36.9, Columbia's Ethan Hogan came in fourth at 15:37.0 and the top five was rounded out by Austin Corey of Waterloo, with a time of 15:44.3.
In addition to Weber's winning time, CM saw D.J. Dutton come in at 16:00.8, Justice Eldridge had a time of 16:06.1, Lucas Naugle had a time of 16:13.6, Jacob Cranford was in at 16:21.7, Landon Kearby had a time of 16:40.8 and Joshua Cranford was home at 17:03.9. Along with Twyman's time, Triad saw Andrew Pace finish eighth at 15:54.9, Sam Kuckuck's time was 16:38.0, Jacob Metcalf was in at 16:44.6, Dalton Mersinger had a time of 16:58.3, Gavin Woolverton was home at 17:11.2 and Gray Lipe had a time of 17:37.2.
Darius Ivy led the Flyers with a time of 16:16.4 to advance to the sectional as an individual, while Demarcus Coleman had a time of 17:56.9, Devonte Ellard was in at 19:29.6, Cortez Sanders was home at 19:43.4 and Marques Mosley's time was 19:45.2. None besides Ivy qualified for the sectional. The Panther's leading runner was Logan Wade at 17:47.3, while Matt Bishop was in at 18:34.7, Jack Deist had a time of 18:38.3, Kris Turnbaugh was home at 18:48.8, Kaden Strohbeck's time was 21:06.8, Lincoln Diamond was home at 21:07.6 and Ethan Edwards was in at 21:39,2. No Jersey runner qualified for the sectional.
More like this: