Monday Sports Roundup: Oilers Notch Third Win, McGivney Boys Lose Close One
November 21, 2023 8:59 AM
November 21, 2023 2:18 PM
Listen to the story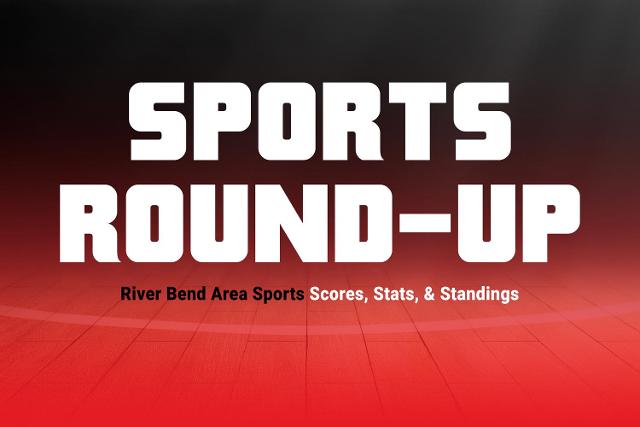 MONDAY, NOVEMBER 20 SPORTS ROUNDUP
BOYS BASKETBALL
Get The Latest News!
Don't miss our top stories and need-to-know news everyday in your inbox.
ROXANA HOOPSGIVING CLASSIC
In the opening day of the Roxana Hoopsgiving Classic on Monday, Carbondale won over Civic Memorial 48-45, Centralia defeated Staunton 57-17, Gateway Legacy Christian of Florissant, Mo., won over East Alton-Wood River and Waterloo Gibault Catholic nipped Jersey 42-39. The tournament continues with group stage games Tuesday and Wednesday.
ALTON TIP-OFF CLASSIC
HIGHLAND 59, ST. LOUIS U. HIGH 47: In the opening game of the Alton Tip-Off Classic at the Redbirds Nest, Highland used a strong effort to upend SLUH in the tournament's opening game.
Garrin Stone led the Bulldogs with 18 points, while Grant Fleming added 17 points, Jake Ottensmeier came up with 13 points and Brandon Decker had 11 points.
The Bulldogs start the season 1-0, while the Junior Billikens are 0-1.
In the evening's second game, the host Redbirds defeated Waterloo 65-50. The tournament continues tomorrow and in an earlier game, Jennings, from north St. Louis County, won over the St. Louis Lift For Life Academy junior varsity 52-46.
MULBERRY GROVE TOURNAMENT
FARINA SOUTH CENTRAL 30, FATHER MCGIVNEY CATHOLIC 27: In both teams' opener in the Mulberry Grove tournament, South Central nipped McGivney in a close game to start off the new season.
Nolan Keller led the Griffins with 11 points, while Drew Kelinheider had six points and both Ryker Keller and Noah Garner each had five points.
The Cougars start their season 1-0, while McGivney is 0-1.
In a regular season opener, home-standing Gillespie won over Maryville Christian 66-48.
GIRLS BASKETBALL
SATURDAY'S RESULTS
CENTRALIA SHOOTOUT
HIGHLAND 44, TEUTOPOLIS 22: In a game played Saturday night at Centralia's Arthur L. Trout Gym, Highland jumped to an early lead and took a win over Teutopolis.
Larissa Taylor led the Bulldogs with 19 points, while Lauren Maas came up with 13 points, Abby Schultz had four points, both Sophia Fleming and Sophie Schroeder had three points each and Hailey Ritz had two points.
Article continues after sponsor message
Highland is now 1-2, while the Wooden Shoes drop to 1-3.
EAST ST. LOUIS 54, KANSAS CITY EWING M. KAUFFMAN 21: In a shootout at Miller Career Academy in St. Louis City, East opened its season with the win over Kansas City Kauffman, a charter school named for the late owner of the Kansas City Royals.
The Flyers led wire-to-wire, holding edges of 24-6, 43-15 and 51-19 after the first three quarters, with the fourth quarter ending in a 3-3 draw. giving East Side the win.
Camya Pitts led East Side with 18 points, while Ryale Mosly had 14 points, Asia Stringer came up with 13 points, Teriel Wilbourn had four points, Imani Box scored three points and both Malia Chambers and Amiyai James both scored two points each.
The Flyers are now 2-0, while the Blue Knights start off 0-1.
MONDAY'S RESULTS
EAST ALTON-WOOD RIVER 51, NEW ATHENS 16; EAWR bounced back nicely from their loss to Roxana in the final of the Dupo Cat Classic to take a decisive win over New Athens in their home opener at EAWR Memorial Gym.
The Oilers led all the way, holding advantages of 18-5, 26-7 and 40-14 after the first three quarters, outscoring the Yellowjackets in the fourth 11-2.
Kaylynn Buttry led EAWR with 18 points, while Kaylin St. Peters added 11 points, Hailey Handler had eight points, Ryann Adams scored six points, both Milla LeGette and Mia Plumb had four points apiece and Jazmyn Smith had two points.
The Oilers are now 3-1, while New Athens slips to 0-4.
BELLEVILLE EAST 68, GRANITE CITY 34: At Granite City Memorial Gym, Belleville East jumped out to an early lead in going on to the win over Granite.
Emily Sykes led the Warriors with 18 points, with Isabella Mangi adding on six points, both Megan and Taliyah Sykes had three points each and Makayla Tanksley and Hailee Wyatt had two points each.
The Lancers even their record at 2-2, while Granite City goes to 0-2.
In other games on Monday, at the Nashville Thanksgiving Classic, Mt. Vernon won over the Father McGivney junior varsity 69-30, Edwardsville came from behind to defeat Springfield 54-48 and Talesha Gilmore had 16 points in Collinsville's 59-31 loss to Okawville in the Nashville Thanksgiving Classic.
PLEASANT PLAINS 53, CARLINVILLE 23: Pleasant Plains won its third game in four starts on Monday with a big win over Carlinville at the Carlinville Big House.
The Cardinals led all the way, holding leads of 16-8, 38-12 and 49-19, with the fourth quarter ending in a 4-4 draw.
Braley Wiser led Carlinville with 12 points, while Jordyn Loveless added five points, Isabella Tiburzi had four points and both Maddie Murphy and Hannah Gibson scored a single point each.
Pleasant Plains is now 3-1, while the Cavies are 2-1.
MVCHA HOCKEY
In a MVCHA game played on Monday at the Wilson Park ice rink in Granite City, Kaden Harris and Kyle Lee scored the goals as Collinsville lost to Freeburg/Waterloo 4-2. The results for the other games were not available.
More like this: