McGivney Leads Class 1A Girls Squads To Sectional, Explorers, Roxana, Piasa, CM's Quick, Triad Team Advances
October 23, 2023 4:16 PM
October 23, 2023 5:05 PM
Listen to the story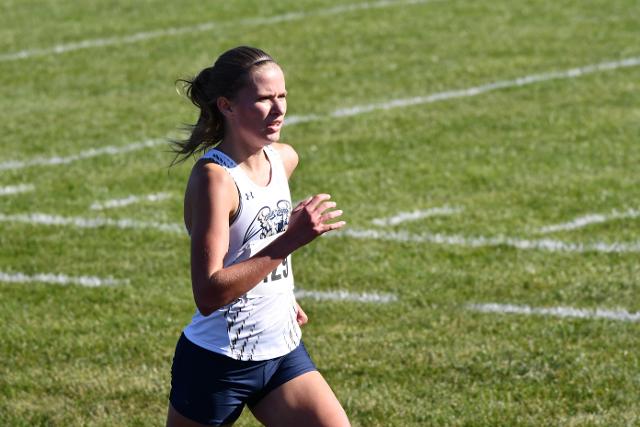 Four teams - Father McGivney Catholic, Roxana, Piasa Southwestern and Marquette Catholic - advanced to the Class 1A sectional, while both Highland and Triad went through in Class 2A and Edwardsville won the Class 3A meet in the IHSA girls cross country regional meets that were held Saturday morning across the state.
The results of the meets were as follows:
Get The Latest News!
Don't miss our top stories and need-to-know news everyday in your inbox.
CLASS 1A AT TRENTON WESCLIN
McGivney won the team championship at Wesclin with 39 points, while Belleville Althoff Catholic was second with 78 points, Breese Mater Dei Catholic came in third at 87 points, Okawville was fourth with 94 points, Roxana came in fifth with 109 points, Marquette placed sixth with 126 points and Southwestern won the seventh and final team berth with 205 points. Staunton was ninth with 243 points, while both Metro-East Lutheran and Maryville Christian both had runners who competed in the race, but not enough for a team score.
Elena Rybak of the Griffins won the individual title with a time of 17:44.2, while teammate Kaitlyn Hatley was second at 18:16.3, Caroline Tepe of Okawville was third at 18:30.6, Breigh Desmond of the Crusaders was fourth at 18:47.3 and both Sarah MkKowen of Centralia Christ Our Rock Lutheran and Emma Diekemper of Mater Dei tied for fifth with identical times of 18:59.3.
In addition to both Rybak and Hatley, Jane Cummins of McGivney came in 10th with a time of 20:32.0, while Ainsley Turkington came in at 21:17.8, McKenzie Jones had a time of 21:36.7, Bella Redenius was in at 22:28.3 and Isabella Harris had a time of 22:30.3. Gianna Stassi of Roxana came in eighth with a time of 19:57.2, with teammate Raelee Kimbro finished ninth at 20:10.5, Bailey Schallenberg-Decker came in at 21:46.0, Elizabeth Clouse had a time of 23:15.4, Kaitlyn Garland was in at 26:06.0 and Ridley Allen was in at 27:06.3.
Paige Rister led the Explorers with a time of 21:32.9, while Katie Johnson came in at 21:53.6, Lillian Hannigan had a time of 21:53.7, Ava Certa was in at 23:53.1, Cassidy Eccles was home at 25:26.6, Isabella Johnson had a time of 26:25.2 and Isabella Downey was in at 28:57.1. Emma Wyman of the Piasa Birds came in seventh at 19:50.0, while Reagan Beilsmith was home at 23:50.9, Kaylyn Hortorf had a time of 27:03.7, Ruthie Bunting was in at 28:11.5, Katlynn Kemna's time was 28:14.2 and Layla Hall was in at 28:27.7.
Article continues after sponsor message
Mallory Lucykow was the top runner for the Bulldogs, with a time of 23:59.1, while Elsah Clark was in at 26:18.7, Lydia Larosa's time was 26:20.5, Cheyenne Butcher was home at 26:27.7, Brooke Rucker had a time of 30:25.8, Olivia Matesa came in at 30:45.7 and Lauryn Sternickle had a time of 32:14.5. Izzy McLeod qualified for the Knights with a time of 20:44.8, the only Metro-East runner to go through, while Audrey Goeckner came in at 26:09.4, Thea Ball was in at 28:46.2 and Anna Ottonelli came in at 31:38.5.
Mia Donald advanced to the sectional for the Lions with a time of 21:38.2, while Isabella Hill came in at 23:53.3 and Isabel Jacob came in at 24:21.2.
CLASS 2A HIGHLAND MEET AT FIREMAN'S PARK, HIGHLAND
Waterloo won the team championship with 39 points, Mascoutah came in second at 80 points, Carterville was third with 95 points, Highland came in fourth with 114 points and Triad captured the final team spot in fifth with 135 points. Civic Memorial was 11th with 308 points, East St. Louis was 12th at 318 points and Jersey cam in 13th with 351 points. Cahokia also had runners in the race, but not enough for a team score.
Waterloo's Cameron Crump was the individual winner, coming in at 16:16.6, while Molly Robinson of Carterville was second at 18:21.8, Angelynn Kanyuck of Waterloo was third with a time of 18:29.3, teammate Danielle Mudd was fourth at 18:47.3 and Peyton Frey of Highland rounded out the top five, coming in at 19:07.3.
To go along with Frey's time and finish, Highland saw Rowan Passmore come in at 20:50.9, both Vivian Marron and Lola Schlarmann were in at 21:03.5, Ava McPherson was right behind at 21:08.4, Taryn Keeney was home at 21:43.1 and Elley Seger had a time of 21:53.1. The Knights saw Kennedy Bowman finish sixth at 19:08.0, Morgan Mason had a time of 20:13.6, while Amanda Bagwell was in at 20:59.6, Bradynn Carey was home at 21:41.1, Abigail James' time was 22:11.0, Mikayla Niehaus was in at 22:44.5 and Alivia Phillips had a time of 22:53.6.
Shelby Quick led the Eagles with a sectional-qualifying time of 20:13.0, while Taylor Brooks had a time of 23:19.5, Mya Walker came in at 23:25.8, Ada Quick was in at 29:37.5 and Calista Webb had a time of 30:08.6. Zhakeya Hawkins qualified for the Flyers with a time of 19:57.7, while Branae Brown was in at 23:36.0, Markayla Barnes was home at 27:50.3, Pea'Ton Walker was home at 28:37.0 and Beautiful McNeese had a time of 36:48.5. Abby Fraley led the Panthers with a time of 23:12.0, while Reese Lorton was in at 24:08.7, Ali Brooks had a time of 24:52.1, Addison Campbell came in at 25:16.9, Morgan Allen was home at 26:13.0 and Rory Speidel had a time of 26:14.3.
More like this: