September 13 2021 5:40 AM
| updated September 13 2021 5:56 AM
Listen to this article
ALTON - Justin Neece of Odessa, Mo., and John Jamison of Spring Hill, Kansas, captured first place in the weekend 2021 Alton Catfish Classic with a total weight catch of 161.38 pounds.

The winners were awarded their prizes at the Liberty Bank Amphitheater on Saturday after weigh-ins.
The Alton Catfish Classic second-place team was Justin Thornton and Duane Buckridge with a total weight of 137.95 lbs. The two won $5,000 for their second-place prize.

The 2021 Alton Catfish Classic third-place team and winner of $3,000 was Mike Davis, Charles Laplant, and Hunter Jones with a total weight of 129.50 lbs.
Caleb Sheppard and Levi Sheppard were the fourth-place team with a total weight of 125.68 lbs.
John Spatafora and Brian Saunders were in fifth place with a total weight of 120.90 lbs and B and R Marine Big Fish of the tournament at 77.61 lbs. The two were awarded $1,500 for the biggest catch.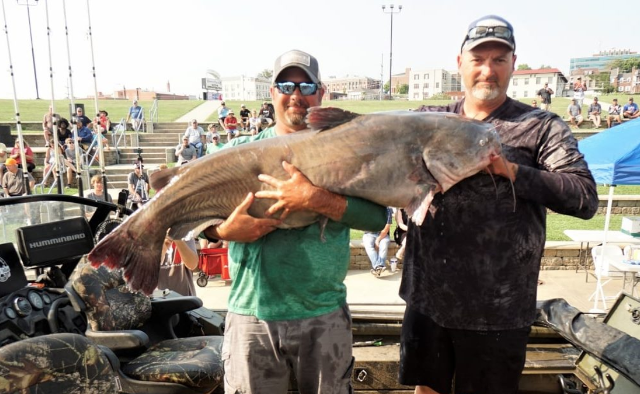 Like RiverBender.com on Facebook!