Gov. Pritzker, IDPH Announce $9.5M To Strengthen Mental Health Services For Youth Across Illinois
Listen to the story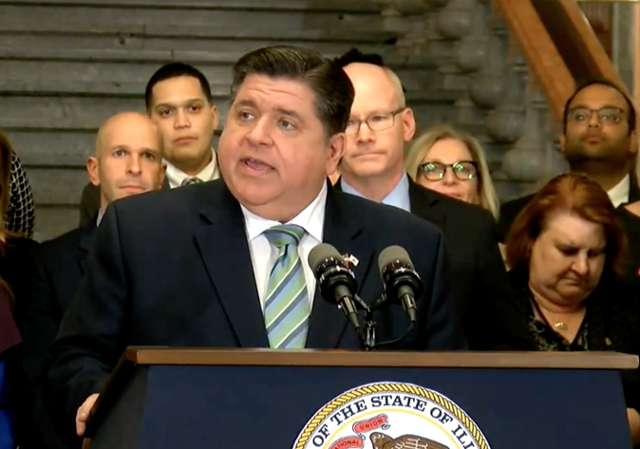 CHICAGO – Governor JB Pritzker and the Illinois Department of Public Health (IDPH) announced today that the State of Illinois has awarded $9.5 million in funding to 40 different applicants across the state to support post-pandemic child and adolescent health. The size of the grants ranges from $83,000 to just over $400,000. Sixty percent of the grants are going to schools, 20% to hospital or clinic-based programs, 17.5% to local health departments and 2.5% to colleges.
Get The Latest News!
Don't miss our top stories and need-to-know news everyday in your inbox.
The funding is primarily from the CDC's COVID-19 Public Health Workforce Supplemental Funding program authorized by the American Rescue Plan Act (ARPA) plus $500,000 in state dollars. It is being offered to help schools and local agencies improve student care through workforce enhancements, developing frameworks to prevent adverse childhood experiences, interventions to assist children suffering from trauma, and training for medical and school staff to expand adolescent mental health resources.

"We recognize that the last few years have presented numerous challenges for all of us, and this is especially so for our youth," Governor Pritzker said. "Thanks to this infusion of federal funding, we are strengthening school-based programs and local agencies that serve the mental health needs of young people all across Illinois. I applaud the Biden Administration for recognizing the need to direct resources to these kinds of programs that support our youth."
"IDPH is excited to support innovative ideas from across the state dedicated to addressing the mental health needs of children and young people," said IDPH Director Dr. Sameer Vohra. "From Winnebago County in the north to Gallatin County in Southern Illinois, we were impressed with the thoughtful proposals we received from schools, health care providers, local health departments, and colleges to strengthen child and adolescent health."
The funding opportunity was overseen by IDPH's Office of Women's Health & Family Services. More than 50 percent of the applicants for the funding opportunity are receiving funding.
The proposals outline numerous different strategies to strengthen mental health services for students across Illinois. These include developing student support programs and offering specialized curriculums in areas like stress management and nutrition; providing mental health training, education and support for teachers; providing such training for all school personnel; creating suicide awareness and prevention efforts; creating plans for mental health outreach; developing plans to address mental health needs during current and future public health emergencies; hiring counselors and other mental health professionals; and providing telehealth counseling and evaluation services.
See below for list of grantees and funding amounts:
Grantee

Amount Awarded

County

City

Alivio Medical Center

$415,000.00

Cook

Chicago

Arrowleaf Johnson County

$249,000.00

Johnson

Vienna

Bloomingdale SD 13

$249,000.00

DuPage

Bloomingdale

Board of Trustees University of Illinois

$281,308.58

Cook

Chicago

Bond County Health Department

$83,000.00

Bond

Greenville

Bourbonnais Elementary School District 53

$313,341.60

Kankakee

Bourbonnais

Chicago Heights School District 170

$342,674.36

Cook

Chicago Heights

Chicago Public Schools

$415,000.00

Cook

Chicago

Cicero School District 99

$176,583.33

Cicero

Cook

Clay County Hospital

$180,630.85

Clay

Flora

Community High School District 99

$249,000.00

DuPage

Downers Grove

Crusaders Central Clinic Association

$249,961.74

Winnebago

Rockford

Douglas County Health Department

$241,974.05

Douglas

Tuscola

Downers Grove Grade School District 58

$332,592.62

DuPage

Downers Grove

DuPage High School District 88

$249,000.00

DuPage

Downers Grove

Egyptian Public and Mental Health Department

$224,752.53

Gallatin

Eldorado

Elmhurst Community Unit School District 205

$249,000.00

DuPage

Elmhurst

Erie Family Health Center

$182,270.43

Cook

Chicago

Evanston Township High School District #202

$169,030.45

Cook

Article continues after sponsor message

Evanston

Evergreen Park Elementary School District 124

$292,118.50

Cook

Evergreen Park

Fenton Community High School District 100

$249,000.00

DuPage

Bensenville

Glenbard Township High School District 87

$249,000.00

DuPage

Glen Ellyn

Gower School District 62

$124,031.88

DuPage

Willowbrook

Greene County Health Department

$166,000.00

Greene

Carrollton

Herrin Community Unit School District 4

$316,546.94

Williamson

Herrin

Horizon Health Foundation

$99,731.66

Edgar

Paris

Indian Prairie School District #204

$248,585.00

DuPage

Aurora

Joliet Public Schools District 86

$206,688.16

Will

Joliet

Lincoln Elementary School District #27

$86,657.93

Logan

Lincoln

Loyola University of Chicago

$132,800.00

Cook

Maywood

Marquardt School District 15

$249,000.00

DuPage

Glendale Heights

Rochelle Township High School

$99,669.42

Ogle

Rochelle

Salt Creek SD 48

$249,000.00

DuPage

Villa Park

School District 45

$249,000.00

DuPage

Villa Park

Stark County Health Department

$197,930.02

Stark

Kewanee

Stephenson County Health Department

$83,000.00

Stephenson

Freeport

Tamaroa Grade School District #5

$278,302.60

Perry

Tamaroa

Tapestry 360 Health

$408,890.58

Cook

Chicago

Tri-County Special Education Association

$377,807.70

DeWitt

Bloomington

Will County Health Department

$214,870.33

Will

Joliet

TOTAL AWARDED

$9,431,751.26
More like this: