| updated February 25 2023 7:04 AM
Listen to this article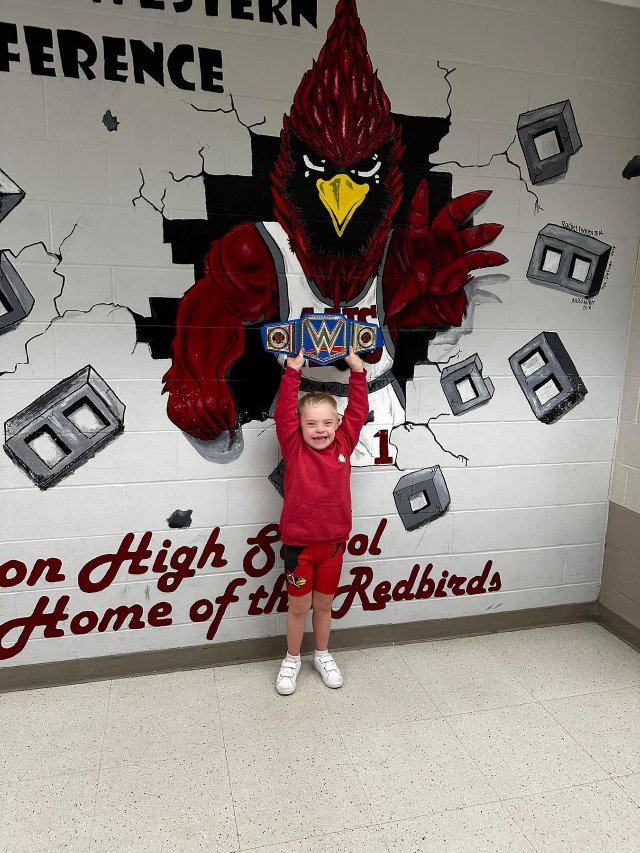 Get The Latest News!
Don't miss our top stories and need-to-know news everyday in your inbox.
ALTON - The Alton Little Redbirds wrestling club hosted its annual Little Redbirds Open Tournament this past weekend at the Redbirds Nest at Alton High School and it was a huge success in all aspects as seven of its wrestlers won in various divisions.
The Little Redbirds had 37 wrestlers competing in the tournament which attracted clubs and individuals from both Missouri and Illinois and even a wrestler from Ohio in what turned out to be a very smoothly run and successful tournament.
"We did really well," said head coach Spencer Lowe, "the tournament ran really smooth for us and we were really pleased how well the wrestling turned out."
The Little Redbirds finished sixth overall, with the Granite City Wrestling Association and the Lion's Den Wrestling Association, also of Granite City, taking the top two spots.
"We had some solid performances from Jacob Sutphin, Austin Jones and Liam Darr," Lowe said. But the highlight of the meet was the win by Cooper Curry, a wrestler who has Down's Syndrome and was able to compete with the help of three other wrestlers, Baileigh Self of Collinsville, Sutphin and Barrett Speck, who wrestled against Curry, who went 2-1 on the day.
"With the help of one of our wrestlers and two other wrestlers, we put him in a class for him with the other wrestlers," Lowe said. "They understood his situation and allowed him to use what he's learned in the wrestling room. We didn't know what to expect, but we were really blown away by what he's done."
The one loss served as a learning experience for Curry.
"They wrestled him really well," Lowe said of Curry's opponents. "They gave him the resistance he needed and he even took a loss, which is a part of wrestling. We wanted him to experience it. He took it well, listened to his coaches and went back out for his next match."
Curry won by fall over Self at 2:22, lost his second match to Sutphin 9-3, then bounced back to pin Speck at 1:20. Among the other champions on the day for the Little Redbirds were Reid Almeter, who pinned Granite City's Lucas Fowler at 22 seconds and Genevieve Jones, also of Granite, at 18 seconds, with Parker Lewis went 3-0, pinning Gage Graves of the Carlinville wrestling club by fall at 1:14, Vance Godwin of the Edwardsville Wrestling Club at 1:57 and Paxton Young-Delotte of Granite at 1:38.
Article continues after sponsor message
Rigby Frost won his division by going 3-0, defeating A.J. Burge of Edwardsville 7-0, Landon Engele of the Highland Bulldogs Junior Wrestling Club 6-0, then pinned Emmett Dalton of Lion's Den at 49 seconds. Darr also went 3-0 in his division, starting with a win by fall over Ryker Larsen of the Belleville Little Devils at 1:23, a pin of Liam Kell of the Wentzville, Mo., Wrestling Federation at 18 seconds and gained the sweep with a pin of Carlinville's Crosby Michaels at 1:00.
Jones swept his three matches, starting with a 7-5 overtime decision over Maximus Sharkey of Edwardsville, then pinned Easton Burrows of Highland at 2:08 and defeated Milo Smith of the Thoroughbred Wrestling Academy of Hillsboro, Mo., 6-2. Sutphin also went 3-0 in his division, taking a 7-5 sudden death overtime decision over Jaxon Lynn of Lion's Den, winning over Self 4-2, then won by fall over Hayden Price of the Collinsville Wrestling Club at 1:53.
The biggest thing was that the tournament went very well for, with very few glitches and turned out to be a very good experience for all involved - wrestlers, coaches, officials, volunteers and fans.
"Overall, it was about as good as you could expect it."
Little Redbirds Results:
Reid Almeter 1st
Round 1 - Reid Almeter (Alton Little Redbirds) won by fall over Lucas Fowler (Granite City WA) (Fall 0:22)
Round 2 - Reid Almeter (Alton Little Redbirds) won by fall over Genevieve Jones (Granite City WA) (Fall 0:18)
Parker Lewis 1st
Round 1 - Parker Lewis (Alton Little Redbirds) won by fall over Gage Graves (Carlinville WC) (Fall 1:14)
Round 2 - Parker Lewis (Alton Little Redbirds) won by fall over Vance Godwin (Edwardsville WC) (Fall 1:57)
Round 3 - Parker Lewis (Alton Little Redbirds) won by fall over Paxton Young-Delatte (Granite City WA) (Fall 1:38)
Rigby Frost 1st.
Round 1 - Rigby Frost (Alton Little Redbirds) won by decision over Aj Burge (Edwardsville WC) (Dec 7-0)
Round 2 - Rigby Frost (Alton Little Redbirds) won by decision over Landon Engele (Highland Bulldog Jr. Wrestling) (Dec 6-0)
Round 3 - Rigby Frost (Alton Little Redbirds) won by fall over Emmett Dalton (Lion`s Den WA) (Fall 0:49)
Liam Darr's 1st
Round 1 - Liam Darr (Alton Little Redbirds) won by fall over Ryker Larsen (Belleville Little Devils WC) (Fall 1:23)
Round 2 - Liam Darr (Alton Little Redbirds) won by fall over Liam Kell (Wentzville Wrestling Federation) (Fall 0:16)
Round 3 - Liam Darr (Alton Little Redbirds) won by fall over Crosby Michaelis (Carlinville WC) (Fall 1:00)
Austin Jones 1st
Quarterfinal - Austin Jones (Alton Little Redbirds) won by fall over Maximus Starkey (Edwardsville WC) (Fall 0:48)
Semifinal - Austin Jones (Alton Little Redbirds) won by fall over Easton Burrows (Highland Bulldog Jr. Wrestling) (Fall 2:08)
1st Place Match - Austin Jones (Alton Little Redbirds) won by decision over Milo Smith (Thoroughbred Wrestling Academy) (Dec 6-2)
Jacob Sutphin 1st
Quarterfinal - Jacob Sutphin (Alton Little Redbirds) won in sudden victory - 1 over Jaxon Lynn (Lion`s Den WA) (SV-1 7-5)
Semifinal - Jacob Sutphin (Alton Little Redbirds) won by decision over Baileigh Self (Collinsville WC) (Dec 4-2)
1st Place Match - Jacob Sutphin (Alton Little Redbirds) won by fall over Hayden Price (Collinsville WC) (Fall 1:53)
Cooper Curry 1st
Round 1 - Cooper Curry (Alton Little Redbirds) won by fall over Baileigh Self (Collinsville WC) (Fall 2:22)
Round 2 - Jacob Sutphin (Alton Little Redbirds) won by decision over Cooper Curry (Alton Little Redbirds) (Dec 9-8)
Round 3 - Cooper Curry (Alton Little Redbirds) won by fall over Barrett Speck (TJ Trained) (Fall 1:20)
More like this: