Willie B. "Billie" Mary
Brighton | Friday, March 21 2014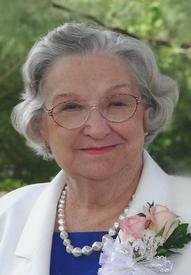 Willie B. "Billie" Mary, 89, died Friday, March 21, 2014 at Eunice Smith Nursing Home in Alton. Born October 16, 1924 in Land Between the Lakes, Kentucky, she was the daughter of William and Nanny Belle (Prescott) Bloodworth. She was one of 8 girls and 2 boys. Billie was a homemaker all of her life. She loved "digging in the dirt in the spring", feeding the birds, and the St. Louis Cardinals. Her GREATEST JOY was caring for her grandchildren and great grandchildren. She was a longtime member of the First Presbyterian Church in Alton and had recently been attending First United Methodist Church of Godfrey with her daughter and family. On October 3, 1942 she married Glen B. Mary. He preceded her in death on February 2, 1987.
Surviving are her children, Bert Mary (Patsy) of Brighton, Keith Mary (Mary Jo) of Godfrey, and Glenda Link (Kenneth) of Godfrey; grandchildren, Karen Walter (Keith) of Omaha, NE, Denise Pritchard of Alton, Christopher Link (Jennifer) of Godfrey, Melissa Gilliam (Dennis) of Staunton, Brian Mary (Shannon) of Brighton, Michael Mary (Maggie) of Schertz, TX, and Erica Castillo (Michael) of Converse, TX; great grandchildren, Katelyn Meyer (Andrew) and Kelsie Walter of Omaha, NE, Carley Link of Brighton, Nathan Mary of Staunton, Caleb Link of Alton, Caleb and Hannah Mary of Brighton, Nadia, Michael, Sean, and Haleigh Castillo of Converse, TX, Payton and McKenna Mary of Schertz, TX. Also surviving are her sisters, Charlene Polk, Genella Buckley, Myles Bilyeu, and Sylvia Payne all of Kentucky, and many nieces and nephews. She was preceded in death by her parents, a daughter, Gracie Dorman, three sisters, Christine Murray, June Lagemann, and Shirley Britt, and two brothers, Charles and Bill Bloodworth.
Visitation will be from 4:00-7:00 p.m. Monday, March 24, 2014 at Gent Funeral Home in Alton where funeral services will be at 11:00 a.m. Tuesday, March 25, 2014. Reverend Don E. Long Jr. will officiate. Burial will be at Valhalla Memorial Park in Godfrey.
Memorials may be made to the American Cancer Society or BJC Hospice.
Online guestbook and information may be found at www.gentfuneralhome.com
Obit Provided By:
Gent Funeral Home