William Haine
Alton | Monday, August 16 2021 |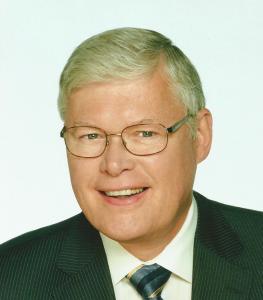 Strengthened by the sacraments of the Roman Catholic Church, with his beloved wife of 50 years Anna by his side, retired Illinois State Senator William R. "Bill" Haine passed away at his home early in the morning of August 16, 2021 after the Solemnity of the Assumption of Our Blessed Virgin Mary into Heaven. He was 77.
Bill was born at St. Joseph's Hospital, Alton, on August 8, 1944, the second of four sons born to the late James Delos Haine and Mary Alice Haine, of Alton, and was baptized at St. Patrick's Catholic Church in Alton. Bill is survived by his three brothers: Jim and his wife Madeleine; John and his wife Sue; and Tom and his wife Pat.
On August 7, 1971, Bill entered into the Sacrament of Matrimony with Anna Francis Schickel at the Grailville Oratory in Loveland, Ohio. Bill and Anna have seven children: Cecilia Philippine, Elizabeth Schlueter and her husband Nathan, Mary Burkett and her husband Peter, Margaret Balan and her husband Zeke, Alice Stirton and her husband John, Thomas and his wife Eva Marie, and Joseph. Bill and Anna also have 38 grandchildren (with one more on the way) and one great-grandchild. Their grandchildren: Alexander Jaworski and his wife Ashley, Madeleine Jaworski, Eleanor Jaworski, Gabriel Jaworski, Xavier Jaworski, Leo Schlueter, Helen Schlueter, Emil Schlueter, Karol Schlueter, Mary Schlueter, William Schlueter, Margaret Schlueter, Judith Schlueter, John Paul Schlueter, Rosaria Burkett, James Burkett, Stella Burkett, Faith Burkett, Edward Burkett, John Balan, Peter Balan, Agnes Balan, Joseph Balan, Jude Balan, Mercea Balan, Moses Balan, Elijah Balan, Anna Stirton, Mary Stirton, James Stirton, Lucia Stirton, Peter Stirton, Cecilia Stirton, Sarah Stirton, Anselm Haine, Joseph Haine, Gabriel Haine, and Sophia Haine. Their great-grandchild is Julian Jaworski.
Bill attended St. Patrick's Grade School and Marquette High School in Alton, and earned his bachelor's degree from St. Louis University. Then he enlisted and served in Vietnam as a member of the First Cavalry Division (Air Mobile), earning the Bronze Star for Meritorious Service in Combat Operations. Upon returning home from military service, he earned his Juris Doctorate from St. Louis University, where he met Anna.
Bill began his legal career as a clerk for George Moran on the Fifth District Appellate Court. He soon became an Assistant Public Defender while entering into private practice with Randy Bono in Wood River, Illinois. Bill's long and distinguished career of public service began with his election to the Madison County Board (1978 - 1988). He was then elected to multiple terms as State's Attorney (1988 - 2002) and State Senator (2002 - 2018). He was serving on the Illinois Board of Elections at the time of his death.
Bill became a member of St. Mary's Parish when St. Patrick's closed and was often a lector at Mass. He was a member of many civic and religious organizations including the Knights of Columbus; the Equestrian Order of the Holy Sepulchre of Jerusalem; the American Legion; and the Veterans of Foreign Wars.
Bill understood his role as husband and father as complementary to his life of public service. He elevated everything he did with his example, his humor, his good taste, his love of truth, and his faith. His counsel was sought by many who knew him and his quiet magnanimity afforded dignity to all. Bill was also a great lover of art, music, and his favorite subject, history. He could often be found reading the newspaper or a good book. He was devoted to his hometown and took daily walks with Anna through the Middletown neighborhood, where he was born, lived, and died.
A public visitation will be held on Friday, August 20, 2021 from 4 PM - 8 PM at the Elias, Kallal and Schaaf Funeral Home, 1313 W. Delmar Ave., Godfrey, IL. The Knights of Columbus will provide an honor guard.
A Mass of Christian Burial will be celebrated at St. Mary's Catholic Church in Alton at 10 AM on August 21, with honors provided by the Knights of the Holy Sepulchre. Burial will follow the Mass at St. Patrick's Cemetery in Alton. The VFW, Alton Post 1308 will provide military colors and honors at the Cemetery.
Memorial donations may be made for the following: Masses to be said for the repose of Bill's soul at St. Mary's Catholic Church; donations to Thrive-Metro East Express Women's Healthcare https://thrivemetroeast.kindful.com; and donations to the Catholic Near East Welfare Association.
Online condolences and guest book may be found at Senator William R. "Bill" Richard Haine Obituary - Visitation & Funeral Information (eliaskallalandschaaf.com).
Obit Provided By:
Elias, Kallal & Schaaf Funeral Home