William Hurley
Jerseyville | Friday, June 2 2023 |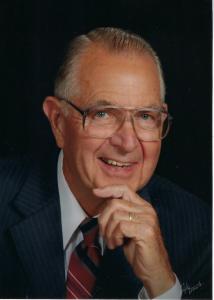 William J. "Bill" Hurley, age 90, passed away June 2, 2023, at DePaul Hospital in St. Louis, after suffering a stroke. Bill was born April 28, 1933, in Jerseyville, IL. He is the son of the late Joseph and Susie (Cummings) Hurley. Bill and his parents moved to Hardin when he was two years old. This is when his Dad found work at the Chevrolet garage in Hardin. Joe, along with Wilbur (Stub) Anderson, later built their own garage, called H & A Garage. Later it became Joe Hurley Sales and Service and lastly Hurley Dodge Inc.
Bill attended St. Norbert's Catholic School. He served mass until he went into the Navy. When he came home on leave, Father Butler asked him to be the Cross bearer at the early morning Christmas mass, which he was happy to do. Bill graduated from Calhoun High School in 1951. He worked for two years at Corbett Brothers Grocery Store. He enlisted in the Navy for four years and earned the rank of Petty Officer 1st Class in 3 ½ years. Upon his return home, he worked at Owens Illinois Glass Company Mold Shop for several years when his parents told him they could use him at the garage. He gladly accepted and never looked back. He retired in 2016 after 57 years at Hurley Dodge and 83 years of age. Bill loved people and he loved selling cars, so it was a perfect fit for him. He was a Class Act. His many acts of kindness over the years speaks volumes for him.
He was humble. When he would go to new car shows, dealers there had stores many times bigger than Hurley Dodge. He would always tell them upfront "we are just small potatoes", to which one dealer responded, "you can sleep at night". Family members and others got their strong work ethic under the watchful eye of Joe, Bill, and John Hurley.
Bill was active in the community. He was commander of American Legion Post 636, in 1962, earning a certificate award for 100% membership. He was a member of the Knights of Columbus, Lions Club, Chairman of the former Calhoun Medical Center Board, Volunteer Fireman for many years, and Chairman of the Calhoun Housing Authority Board.
Bill faced every challenge head-on. Whether it was health issues, major flooding, etc. He was always grateful for his brother John's help who was his business partner for many years, as well as sons, Bob, Tim, nephew Vic, brother Chuck, and all employees and family members who kept the family business running smoothly.
Bill took his role as Dad serious. He loved his family, and although he worked many long hours, Sundays and some evenings were reserved for family time. Grandkids and Great Grandkids were very special, he was always interested in their daily life, and offered them words of encouragement. He was happy when his Grandson, Jack, chose him to be his mentor when he became an Eagle Scout. Armchair memories of week-long annual family vacations will always be cherished.
Even though his health was declining, he enjoyed regular visits with his good friend and classmate, Jerry Tinkey.
He is survived by his wife Frances, who he married on June 18, 1960, in Meppen, Illinois, sons, Bob (Laura), Pat (Danielle), Tim (Kristie), all of Hardin, and daughter Julie (Rod) Brangenberg of Jerseyville. Ten Grandkids, Ross (Jacinda) and Nathan Hurley, Ava, Joy and Lucy Hurley, Will and Grace Hurley, Jack, Joe, and Rose Brangenberg. Two Great Grandsons, Oliver and Samuel Hurley. His brother John (Jean) Hurley, sister-in-law, Roberta Hurley, brother-in-law Severine Baalman, and sister-in-law Mary Jane Baalman, nieces, and nephews.
Preceding him in death, besides his parents, were his brothers Chuck and Roger Hurley, his nephew Chuck Hurley II, nephews, Jim Baalman and Gary Baalman, sister-in-law Rosella (Toots) Baalman, brothers-in-law Gilbert, Victor, and Joey Baalman.
Bill had a humorous side, always up for a joke. He didn't want a long obituary. He said he wanted to be like the little boy who lost his dog, "he said he died, and that's all there was to it." Sorry Bill, we thought you deserved more, Rest in Peace.
When Bill retired and you called the garage, you could almost hear the echo of that voice that you heard so many times say, "Hurley's, Bill speaking, can I help you?" Today Hurley Dodge continues running with the Third Generation.
A visitation will be held from 4 – 7 pm, on Tuesday, June 6, 2023 at Gress, Kallal, and Schaaf Funeral Home in Hardin. A mass of Christian burial will take place on Wednesday, June 7, 2023, at 10:00 am at St. Norbert's Catholic Church in Hardin, IL. Fr. Don Roberts officiating. He will be laid to rest at St. Norbert's Catholic Cemetery in Hardin. In lieu of flowers, memorials may be given to St. Norbert's Catholic School, St. Norbert's Catholic Cemetery, Calhoun County Ambulance, or family choice.
Online condolences can be given at www.kallalandschaaf.com.
Obit Provided By:
Gress, Kallal and Schaaf Funeral Home