William E. Heintz
Godfrey | Thursday, December 18 2014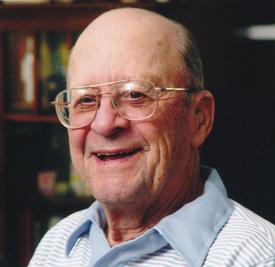 William E. Heintz, 97, passed away at 10:24 pm Thursday December 18, 2014 at Provision Living in Godfrey.
He was born on November 8, 1917 in Alton, IL the son of Charles & Mary (Weaver) Heintz.
He married Irma D. Frohock on December 20, 1942 at Camp Rucker, AL and she preceded him in death on August 3, 1969.
William served his country as a member of 81st Wildcats in the US Army, where he received his Purple Heart.
He is survived by a daughter and her husband, Mary Dee and Pete Bartolazzi of Kaukauna, WI; two sons and their wives, James and Deborah Heintz of Granite City, and Jeffrey and Sallie Heintz of Bethalto; two granddaughters, Angela and Michael Boudreau, and Theresa Bellile; six grandsons, Tom and Camie Bartolazzi, Michael and Jennifer Heintz, Greg Heintz, Chris Heintz, Jarrett and Yvette Heintz, and Stephen and Erin Heintz; and eight great-grandchildren, Megan Boudreau, Jordyn Bartolazzi, Joe Bartolazzi, Conner Bellile, Claire Bellile, Makenzie Heintz, Ben Heintz, and Annie Heintz.
In addition to his parents and wife, he was also preceded in death by five brothers, Charles and Mary Heintz, Frank and Velma Heintz, Rev. Robert Heintz, Vic and Audrey Heintz, and John and Betty Heintz; and two sisters, Mary and Tony Kremer and Katherine and Jack Kruegel. One granddaughter, Carolyn Heintz.
Visitation will be from 4 pm to 8 pm Sunday, December 28, 2014 at Staten-Fine Funeral Home.
Funeral Service will be held at 10 am Monday, December 29, 2014 at Staten-Fine Funeral Home with Fr. Steve Pohlman officiating.
Burial will follow at St. Joseph Cemetery in Alton Il. Alton VFW Post 1308 Ritual team will perform military rites.
Memorials may be made to Alton VFW Post 1308.
Online condolences and guest book may be found at www.staten-fine.com
Obit Provided By:
Staten, Fine & Burke Funeral Home