Wilburn Riley
Troy | Wednesday, September 22 2021 |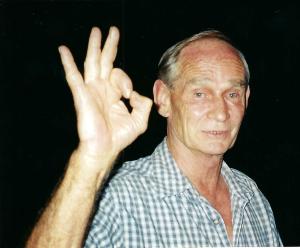 Wilburn Ray Riley, age 82, of Troy, IL, passed away Wednesday, September 22, 2021, at Christian Hospital in St. Louis, MO.
Ray was born March 10, 1939, in Deventer, MO to James Clifton and Earlene (nee Nolen) Riley. He was the 4th child born of 13 siblings. Ray grew up in East Prairie, MO on the family farm. After graduating high school, he joined the Air Force in 1958 serving four years.
Ray was a retired truck driver for McLean Trucking Company. After retirement, he worked at Anderson Hospital in the Housekeeping Department (although he really didn't enjoy housework or did his wife, Peggy). He loved to fish and camp with his family, gardening, and his coffee. He was a frequent customer at his favorite coffee spot, ZX Convenient Mart in Troy. He enjoyed watching his grandchildren and great-grandchildren play sports. His motto was "Spoil the child and spare the rod." He loved a good practical joke. He was a gentle, kind, and loving man. He loved his family more than anything.
He was preceded in death by his parents; two brothers: Russell and Melvin Riley; four brothers-in-law: Al Thurstin, Calvin smith, Claude Chatman, and Ronnie Poole; and two sisters-in-law: Loretta and Connie Riley.
He is survived by his wife, Peggy Sue (nee Whiting) Riley, whom he married April 12, 1979; five children: Daryl (Melissa) Riley of East Prairie, MO, Ronald (Linda) Whiting of Arnold, MO, Vivian (Stan) Huston of Troy, IL, Ray (Sherry) Cashel of Ward, AR, and Joe (Donna) MacLeod of Cedar Hill, TN; 16 grandchildren: Elisa (Matt) Bauer, James George III, Christina (Drew) Canini, Andrew Echeverria, Heather Whiting, Zakary Riley, Gunnar Riley, Daryl Jr. (Ashli) Riley, Chelsea Wicker, Nathan Wicker, Jessica Cashel, Danny (Reagan) Cashel, Nicholas Cashel, Nickie MacLeod, Taylor MacLeod and Peyton MacLeod; 23 great-grandchildren: Ethan, Jolanta, Aiden, Eli B., David, Kayleigh, Layla, Liam, Waylon, Pierson, McKinly, Rhyan, Olivia, Eli W., Kenna, Zakary II, Kylee, Kaylee, Daryl III, Jerzie, Kylan, Hailey, Katy, Ma'lyiah, Trisdon and Amara; 10 siblings: Alice Thurstin, Doris Smith, Faye (Harry) Gosche, Sue Chatman, Jeanette Adkisson, Joyce Poole, Sally (Steve) Baron, Dennis (Mary Lee) Riley, Alvin (Pauline) Riley and Ronnie (LaRue) Riley; numerous nieces and nephews.
Visitation will be held from 10:30 a.m. to 12:30 p.m. on Wednesday, September 29, 2021, at Barry Wilson Funeral Home in Maryville, IL. Masks are required to be worn.
The funeral service will be held immediately following visitation and will begin at 12:30 p.m. at the funeral home, officiated by Rev. Roger Wright. Burial with honors will be in Jefferson Barracks National Cemetery, St. Louis.
In lieu of flowers, memorials may be made to St. Jude Children's Research Hospital and will be accepted at or mailed to Barry Wilson Funeral Home, 2800 N. Center Street, Maryville IL 62062.
Condolences may be expressed to the family at barrywilsonfuneralhome.com
Obit Provided By:
Barry Wilson Funeral Home & Cremation Services