Walter Cooper
Godfrey | Wednesday, February 8 2023 |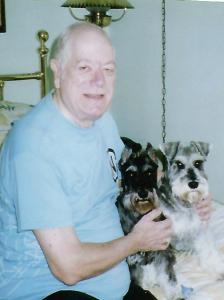 Walter "Walt" Gene Cooper, 88, of Godfrey, passed away at 5:07 a.m. Wednesday, February 8, 2023, at Alton Memorial Hospital in Alton.
Walt was born September 1, 1934, in Venice, he was a son of the late Lester Merle Cooper and Jessie (Quillman) Cooper.
Walt graduated (in just 3 years) from Venice High School in 1951. He attended S.I.U. in both Alton and Edwardsville.
At age 22, he was drafted for 2 years into the U.S. Army. During the first 30 days, he was offered Officer Training which he refused because it would extend his enlistment 4 years. After basic training, he was transferred to Fort Jackson, SC, and assigned as private secretary to the Deputy Commanding Brigadier General. Walt was honorably discharged as Specialist 5th Class.
On June 10, 1961, he married the former Edith Anne Ebbert. She preceded him in death on November 12, 2014, just 2 days before her 76th birthday.
He was employed for 1 year in the Consumer Credit Department of Mercantile Commerce Bank in St. Louis; followed by 18 years in the Accounting Department of IL Terminal Railroad Company in St. Louis.
For 2 years Walt and Edith owned and operated "Cobblestone Resort", a 14-acre summer resort in the Missouri Ozarks. After selling the resort, Walt then passed the required examinations to obtain his IL Real Estate Broker license along with his Insurance Broker license and with his wife Edith, also Broker licensed, owned and operated Cooper & Cooper Real Estate & Insurance Agency in Alton for 39 years until Walt retired in 2009 at age 75.
At age 10, Walt began his study in music with lessons in piano, voice, and tap dance. In his early teens, he demonstrated his vocal and tap dancing talent on TV channel 5 in St. Louis by performing several times on an afternoon program hosted by the late Russ Severin. After his Army discharge, he auditioned for acceptance to the St. Louis Conservatory of Music and continued private piano lessons for two additional years.
Walt performed many vocal solos at 12th Street Presbyterian Church in Alton where he was a long-time member since age 18. He also served for 9 years on the Church Session, always appointed Secretary/Treasurer of the Finance Committee.
For 8 years he was employed as organist/choir director at First Presbyterian Church in Brighton, followed by 1 year as organist/choir director at Elm Street Presbyterian Church in Alton.
For 14 summers he presented one Sunday evening, a 30-minute Carillon Concert at Gordon Moore Park. For 25 years he performed hundreds of one-hour musical programs for residents at each of the nursing/convalescent homes in Alton, Godfrey, East Alton, Wood River, Brighton, and Jerseyville.
In 2013, Walt went on the one-day IL Veteran's Honor Flight to Washington, D.C. for a tour.
During his late teens, Walt started traveling on vacations all across the USA and North America, Cuba, Bermuda, and most European Countries.
Walt is survived by two sons, Gregory Michael Cooper of Arlington Heights, IL, Bradley Allen Cooper of St. Louis, MO; niece, Cathy Payne Stach, and two nephews, Jeffrey Payne, and Steven Payne all of Rockville, MD.
Besides his wife and parents, Walt was preceded in death by a 29-month-old brother from convulsions caused by an uncontrollable elevated temperature; Walt's only sister, Melva Kathleen Payne, and her husband Ralph Silver Payne.
A celebration of Walt's life will begin at 5:00 P.M. until 7:00 P.M. Wednesday, February 15, 2023, at Gray Funeral Home in Wood River with funeral services following at 7:00. Pastor Jerry MeCaskey will officiate.
Burial will be next to his wife at noon Thursday, February 16, 2023, at Rose Lawn Memory Gardens in Bethalto.
In lieu of flowers, memorials may be given to the Evangelical United Church of Christ, 1212 W. Homer Adams Parkway Godfrey, IL 62035.
Obit Provided By:
Gray Funeral Home