Walter Wood
Baker City, Oregon | Wednesday, April 28 2021 |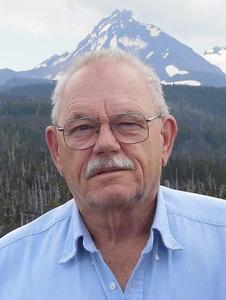 Walter Ottis Wood, Jr., 74, of Baker City Oregon, lost his long battle against cancer, on April 28, 2021, at St. Luke's Medical Center in Boise, ID. Walt was born January 9, 1947, in Alton, Illinois, the only child of Walter and Stella Wood of Shipman, Illinois. He attended local grade school and Southwestern High School making many lifelong friends. He delighted in working on local farms, mowing and cleaning in the town cemetery (his father was the town's mayor), hunting raccoons at night and squirrels during the days in the woods and growing up in a caring, Christian community of family and friends.
Walt's dearest wish was to be a farmer, but when his grandmother sold the family farm, he turned to forestry as the closest substitute and attended Southern Illinois University in Carbondale earning a Bachelor's in forestry and a Master's in Silvaculture in 1972. He worked his way through college as a teaching assistant, working in the janitorial service, cutting cordwood for charcoal kilns, tree climbing for Davey Tree Service in the St. Louis, MO area and as a wildlands fire fighter for the U.S. Department of Agriculture, Forest Service in Arizona and California.
It was that first summer, while working for the Klamath National Forest Siskiyou County, California, that he met Christina Crawford of Fort Jones, CA. The two shared interests in astronomy, natural history and sciences, politics, history, travel and especially their shared sense of humor. They married in Reno, NV on June 23, 1973, and shared their lives together for the next 48 years. The couple lived briefly in Fredonia, AZ, Kanab, UT, and Middletown, PA before settling in Oregon. In Pennsylvanian, Walt supervised the tree nursery program for the state's Bureau of State Parks and its Gypsy Moth spray program. Because of the difficulty of reaching some areas, he began his interests in helicopters and white water rafting, using both modes of travel to inspect and treat barely accessible areas of the state.
In 1974, the couple transferred to Roseburg and Walt began his career for the U.S. Department of the Interior, Bureau of Land Management for the next 32 years as a forester covering nearly every aspect of timber and forestry management. In 1993 he transferred to the Baker City Office of BLM until his retirement. During his years in service he was trained as a first responder medical technician, helicopter foreman, explosives handler, truck driver, wildlands firefighter, ATV safety officer and trainer, surveyor, and investigator. He was very proud of his work in timber genetics and tree stand improvement and his work with experimental compressed air foam systems used in wildlands fire control. During his career he used horses, trucks, all-terrain vehicles, helicopters, airplanes, skis, snowshoes, snowmobiles, boats, rafts and especially shank's mares to cover thousands of miles in the outdoors in pursuit of his calling. It was in nature he in found his love and life's work.
In 1993 and 2002, Walt and Christina together traveled to the People's Republic of China to adopt two little girls, Lillian (Tagg) Wood Holmes and Anna (Mei). Along the way Walt often mentored other young people in the communities in which he lived. He was also very interested in working with animals and enjoyed the rescue and care of dogs.
After his retirement, Walt worked briefly as a fence builder and renewed his interest in the shooting sports. For all his hunting and fishing time, he only harvested one deer in his life, shooting it off the back porch of his home in the Roseburg area. He often returned from hunting and fishing trips with excuses like too far away, poor visibility, unsure of the target and the fish just weren't biting, when family and friends knew the real reason was he enjoyed the outdoors so much more than the taking of his limit.
Walt and Christina planned to move into a new phase of their lives together this year with selling their long-time home in Baker City and moving to property in Alton, MO. But his health failing, he contracted pneumonia and passed away within 24 hours of his admission to the hospital with Christina at his side.
He was preceded in death by his parents, all of his aunts and uncles, and some of his cousins.
He is survived by his wife and daughters, Tagg and her husband Shane, and Mei.
Interment will be at the Shipman Cemetery next to his parents with a graveside service at 2 pm on Wednesday, May 12, 2021. A memorial celebration of life will be held in a place and time to be determined in Baker County Oregon and anyone who wishes to attend will be welcomed. In lieu of flowers please make a donation to the Baker High School Trap Club through the Powder River Sportsmen's Club to encourage the safe training and education of the new generation of shooters, both male and female. Any contributions may be sent to or hand-delivered to Coles Tribute Center, 1950 Place Street, Baker City, Oregon 97814.
To offer online condolences to Walter's family, please visit www.andersonfamilyfuneral.com
Obit Provided By:
Anderson Family Funeral Home