Victoria Meyer
Fieldon | Wednesday, December 9 2020 |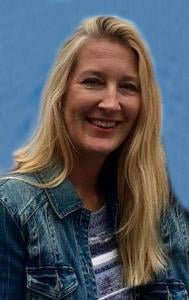 Victoria Lynne (Haupt) Meyer, 55, passed away at 10:54 a.m., Wednesday, December 9, 2020 at her home, following a courageous battle with colon cancer.
She was born on August 29, 1965 in Saint Louis, Missouri, one of three children born to William and Carolyn (Piekarski) Haupt and graduated with from McCluer North High School.
She married David Meyer on April 17, 1992 in Saint Louis, Missouri and together they were the proud parents of two sons, Austin and Greg.
Vicky was a long time employee of Jersey Community Hospital and served in various capacities throughout her career with JCH, including time spent in the Radiology Department, Admitting as well as working as a Massage Therapist at the JCH Wellness Center. Never one to shy away from hard work or a challenge, she was also employed as a Bus Driver with Jersey Community School District #100.
Anyone who knew Vicky knew of her love of the outdoors. She spent much time gardening and planting flowers at her home, as well as numerous hiking and nature adventures and her dogs held a very special place in her heart.
Above all else, Vicky was a loving and supportive wife, mother, daughter, sister and friend to many. Her family was the center of her universe and she treasured the memories that they created together and was so incredibly proud of the accomplishments of her sons. She was the friend that you could always count on, whether it was to share in celebration and a good laugh, or a shoulder to lean on, there was no greater human being to have in your corner than Vicky.
While her time here on Earth was far too brief, she left a lasting impact on those around her with her positive outlook, her resilience and her unwavering love and was a blessing to all that she encountered, both personally and professionally.
Surviving are her husband, David Meyer of Fieldon; two sons, Austin Meyer of Seattle, Washington and Greg Meyer of Fieldon; her father, William Haupt of Portage Des Sioux, Missouri; two brothers and a sister in-law, William and Teresa Haupt of Fieldon and Jeff Haupt of Starkville, Mississippi; a sister, Erin Haupt-Poertner along with numerous nieces and nephews.
She was preceded in death by her mother and grandparents.
Memorial visitation will be held from 6 to 8 p.m. Wednesday, December 16, 2020 at Crawford Funeral Home in Jerseyville. Due to the COVID-19 pandemic, all CDC guidelines will be followed and masks must be worn.
Memorials may be given to the family in care of Crawford Funeral Home.
Obit Provided By:
Crawford Funeral Home