Verlene Urekar
Springfield, IL | Sunday, August 21 2022 |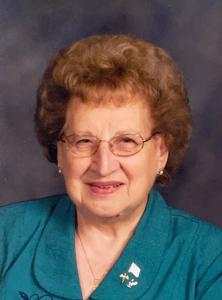 Verlene Clara (Kruckeberg) Urekar, 89, of Springfield, entered Heaven's Gates at 7:05 p.m., on Sunday, August 21, 2022, at St. John's Hospital.
Verlene was born January 27, 1933, on the family farm in Omphghent Township, IL, the daughter of Otto and Frieda (Meyer) Kruckeberg. She married Joseph F. Urekar on August 16, 1958, at Midway United Church of Christ. He preceded her in death on November 17, 2003.
Prior to their marriage, Verlene worked for Edwardsville National Bank as a bookkeeper for 8 years. In the early years of their marriage, they split their time living between Rolla, MO, and the Kruckeberg Family Farm in Worden, IL, as Joe attended Rolla School of Mines. After moving to Springfield for Joe's job, Verlene was a homemaker and enjoyed helping with the many school and church activities her children were involved in. She loved sewing, crocheting, and working in her flower bed. After raising her children, she was a waitress and cook at Watt Brother's Pharmacy for many years until their closure. Verlene then went on to work at Peases for several years. She found enjoyment in volunteering as a St. John's Samaritan in the gift shops. Verlene especially enjoyed the Carol Jo Vecchi Gift Shop where she met many young patients at the hospital that were there for therapy. Her greatest joy in life, though, was the many adventures she shared with her grandchildren and great-grandchildren.
Verlene was also preceded in death by her parents; son, Florijan Urekar, who passed away May 29, 2007; sister, Alberta (Alvin) Daube; brothers, Leo (Opal), Dean (Sue), and Glenn (Loretta) Kruckeberg; sister-in-law, Sadie Kruckeberg; and Joseph's siblings, John (Margaret), Rudy (LaVonne), and Dorothy (Donald) Mihelcic.
She is survived by her daughter, Elaine Urekar of Springfield; daughter-in-law, Cherie (fiancé, Ken White) Urekar of Moses Lake, WA; four grandsons, Joshua Urekar of San Antonio, TX, John Urekar of Eagle River, AK, Florijan (Keri Lightle) Urekar Jr. of Dayton, OH, and Russell (Dan) Urekar-Balys of Gurnee, IL; great-grandchildren, Lillyana Urekar, Bellamy Urekar, Mint and Josh Jelinek-Balys, and Keira, Kalissa, and Alexandra Mallett; brother, Dale Kruckeberg of St. Peters, MO; Joseph's siblings, Betty Jean (Murrell) King of Glen Carbon, IL, and Frank (Em) Urekar of Marysville, WA; and many nieces, nephews, and cousins.
Visitation: Family will receive friends from 4:00 p.m. until 7:00 p.m. on Friday, August 26, 2022, at Peace Lutheran Church, 2800 W. Jefferson St., Springfield, IL.
Celebration of Life: 10:00 a.m. on Saturday, August 27, 2022, at Peace Lutheran Church with Pastor Mary E. Zupansic officiating.
Graveside Ceremony: 2:00 p.m. on Saturday, August 27, 2022, at New Spangle Cemetery in Staunton, IL.
Memorial contributions may be made to St. John's Children's Hospital, 800 E. Carpenter St., Springfield, IL 62769, or New Spangle Cemetery Association, 1632 Williamson Ave., Staunton, IL 62088.
The family is being served by Butler Funeral Home – Springfield, 900 S. Sixth St., Springfield.
Please visit butlerfuneralhomes.com to offer your condolences.