Thomas Hughes
Alton | Saturday, March 19 2022 |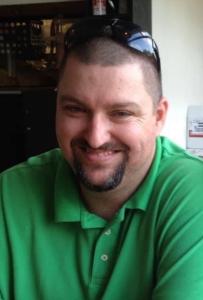 Thomas Joseph Hughes passed away on March 19th, 2022, as the result of injuries sustained in a motor vehicle accident. He was 45 years old. He had many nicknames during his life, including Amigo, Green Milk, the Diesel Guy, and a few others that shouldn't be published. But most often...he was just TJ.
TJ was born on May 24, 1976, in Washington, IN, to Charles Vencen Hughes and Rebecca (Rayman) Tipton. After graduating high school in 1995, TJ went to work in the automotive service industry. In 1996, TJ first met Amanda Spraggs, who swore she would "never date a guy like that." She later ate those words, as they were married in December of 2005. TJ and Amanda were blessed with two amazing daughters, Hannah Grace (18) and Gabrielle Ryleigh (14). Having two teenage daughters made TJ realize that the only thing that truly terrified him was teenage boys.
In 2007, TJ started Tri-County Diesel out of his garage in Bethalto, IL. Within a few short years, he outgrew the garage and moved his business to Godfrey, IL. TJ specialized in complex diesel engine repairs and performance enhancements. His vast knowledge of diesel engines and experimentation with different repair techniques garnered a wide following and a keen familiarity with which shop-related wounds would buff and which might actually require medical attention. TJ had customers from all over the US and consulted as far away as Australia. He mentored many individuals over his years in the industry and was incredibly proud of what he'd built from the ground up. His main business principle was to always treat the customer right, and that's why they came back and sent their friends to the Diesel Guy.
In addition to his wife, daughters, and parents, TJ is survived by his brother Justin Hughes; step-brothers Albert and Dave Carreon, step-sister China R. Cital; his brothers-in-law Manuel (April) Spraggs, Justin Spraggs, and sister-in-law Tonya Spraggs; special friends Jacki Lottes Webber, Rodger Wilson, Stephen Orlando, and José Oseguera; and a host of cousins he got up to much mischief with in their younger days (and likely not so younger days). TJ was loved by many nieces and nephews; Mary, Ethan, Aubrey, Alyssa, Charity, Jaylen, JJ, Chloe, Claire, Jackson, Cece, Emma, Davin, Brexlee, and bonus nephews Connor and Vincent, all of whom he loved to spoil rotten.
TJ never met a stranger and couldn't go anywhere without bumping into a friend. Many exits were delayed by TJ seeing someone he knew and stopping to chat for a bit. Through Tri-County Diesel he acquired a whole new family, and we sincerely hope that all future diesel events involve at least one additional rev of a finely tuned engine for TJ.
TJ was preceded in death by his step-mother Brenda L. Hughes, his paternal grandparents Thomas and Letha Hughes, and his maternal grandparents Richard and Patty Rayman.
Visitation will be held on Saturday, March 26th, 2022 from 9-11 am at Ed Lee Mortuary in his birthplace of Washington, IN. A short service will follow. In lieu of flowers, memorials may be made to an account established for his daughters Hannah and Gabrielle at CNB Bank, 200 Homer M. Adams Pkwy, Alton, IL, 62002.
Plans are underway for an additional Celebration of Life in the Alton, IL area in the coming weeks. Details will be posted to the Tri-County Diesel Facebook page as they are finalized.
Gent Funeral Home in Alton is in charge of arrangements. Online guestbook and information may be found at www.gentfuneralhome.com
Obit Provided By:
Gent Funeral Home