Thelma Pyles
Glen Carbon | Saturday, June 25 2022 |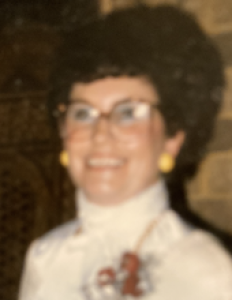 Thelma "Tootsie" Pyles, age 89 of Glen Carbon, IL, passed away on Saturday, June 25, 2022, at Lebanon Care Center in Lebanon, IL. Tootsie was born on September 13, 1932, in Sharp County, AR, a daughter of the late John and Virgie (Johnson) Spurlock.
On April 29, 1961, Tootsie married Leo Pyles, the love of her life in St. Louis, MO and Leo passed away on June 8, 2012. Tootsie retired as a sales manager from Libson Women's Clothing Store after many years of dedicated service. She was a member of the Church of Christ in Troy, IL, and Collinsville, IL. She enjoyed needlepoint, making crafts, and in her younger years, she loved playing softball. She also had a special place in her heart for her dogs. Tootsie was a loving sister, aunt, great-aunt, and a dear friend. She will be sadly missed by all who knew and loved her.
In addition to her parents and husband, Tootsie was preceded in death by a son, Lloyd Peete; two sisters, Irene and Bernice; and four brothers, Ralph, J.W., Dee, and Wayman.
She is survived by her dear sisters, Betty Spurlock of Belleville, IL, Joann (Keith) Mathenia of Granite City, IL, Imogene Johnson of Oregon, and Mayola (George) Lynn of Indiana; many nieces, nephews; extended family, and friends.
In celebration of her life, a visitation will be held from 9:30 a.m. until 11:30 a.m. on Thursday, June 30, 2022, at Irwin Chapel, Granite City, IL, with the funeral service to follow at 11:30 a.m.
Tootsie will be laid to rest next to Leo at Sunset Hill Memorial Estates in Glen Carbon, IL.
Memorial donations may be given to Granite City A.P.A. Donations will be accepted at the funeral chapel.
Condolences may be expressed to the family online at www.irwinchapel.com.
Obit Provided By:
Irwin Chapel Funeral Home