Teddy Mitchell
Edwardsville | Friday, September 3 2021 |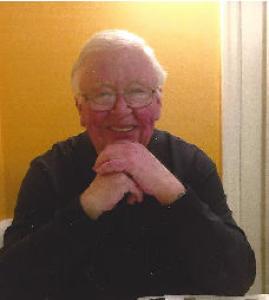 It was once said that if you wanted to find Ted Mitchell, you should listen for laughter or follow the food crumbs. Ted enjoyed people of all walks of life, rarely judging anyone, and he often amused even strangers with his quick wit and storytelling ability. To meet Ted was to love him. He also loved food and his daughters once tracked him down at Dillard's by following a trail of popcorn!
Teddy Carl Mitchell of Edwardsville, Illinois was born October 18, 1946, in Benton, Illinois to Carl Theodore and Geraldine Bowlin Mitchell. He graduated from Benton High School in 1964 and Southern Illinois University, Carbondale in 1970. He taught for 11 years at West Junior High and Alton High School in Alton, Illinois and he was a favorite among the students for his sense of humor and relaxed teaching style. In 1981, he started a State Farm agency in Edwardsville from scratch and built the business to over 4000 policies before retiring in 2021.
Ted believed in giving back to his community and he was a member of the Benton Elks, Edwardsville Kiwanis, Optimists', Masons' and Moose Clubs, and the Goshen Rotary of Edwardsville, proudly hosting four international students. He was also a member of The Scottish Rite in Belleville, Illinois, and was a past president of the Director's staff at Ainad Shrine Center in East Saint Louis, Illinois. Ted was honored to serve as Potentate of Ainad Shrine Center in 2008 during which he helped to raise $10,000 for Shriners Hospital for Children in St. Louis, Mo.
He was preceded in death by his parents, Carl Theodore and Geraldine Bowlin Mitchell, his grandparents, Andrew Warren and Esther Rice Mitchell and Ezra Clark and Ida Ann Lockhart Bowlin, and his sister Sharon Sue Meehan. Bruce Kimble, a brother-in-law, also preceded him in death. He is survived by his wife of 51 years, Linda Kimble Mitchell, his daughters and sons in laws, Emily and Jeremiah Furr of Brooklyn, NY and Hilary and Allen Duncan of Edwardsville, three grandchildren, Elle Renea and Allen Anthony Duncan III and Joseph Mitchell Furr and his global children, Felix Rietstag of Germany, Yanika Srichana of Thailand, Betka Bochova of The Czech Republic and Petra Bekesi of The Netherlands.
Visitation will be at St. John's Methodist Church on Marine Rd in Edwardsville on Thursday, Sept. 9 from 4-8 with the funeral service at the church at 10 a.m. on Friday, Sept.10, with Rev. Grant Armstrong officiating, followed by a luncheon at the Moose Lodge on Marine Rd. Donations are requested for Shriners Hospital for Children or St. Johns Methodist Church, Edwardsville, IL. Weber & Rodney Funeral Home is in charge of arrangements. Condolences can be expressed at weberfuneralhome.com.
Obit Provided By:
Weber & Rodney Funeral Home