Tamara Billhartz
Edwardsville | Wednesday, October 19 2022 |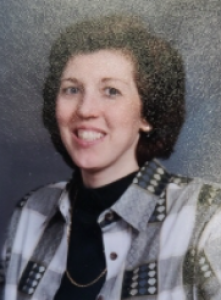 Tamara Marie "Tammie" Billhartz, 60, of Edwardsville, Illinois peacefully passed away at 8:05 p.m. on Wednesday, October 19, 2022 at her home.
She was born September 13, 1962 in Granite City, Illinois, a daughter of Merle Schrumpf of Highland and the late Jean (Schmid) Schrumpf.
She married the love of her life, Joe Billhartz on December 1, 1984 at the LeClaire Christian Church in Edwardsville and he survives.
Tammie had a servant's heart and was devoted to serving others and leading people to her Lord and Savior, Jesus Christ. She had a tremendous positive outlook on life and tried her best to give this outlook to others throughout her life and her hope is to continue to guide people after her life on earth is done. She was a devoted member of LeClaire Christian Church since her young age of 10. She was active with the Women in His service, Wednesday night fellowships, taught Sunday School, served as a greeter, attended home and care center visits, loved singing, working in the nursery and her many years of involvement with Vacation Bible School. She had a love for flowers, trees, birds and gardening and was a member of the Edwardsville Garden Club for many years and helped on the membership and yearbook committee. She was a supporter of Faith in Action and was very active with many other organizations throughout the community. She enjoyed basket weaving and cherished her family and enjoyed many special times with her many nieces and nephews and many friends. Tammie had worked for Madison County Federal Savings and Loan for 3 years and nearly 20 years with the Bank of Edwardsville as a Customer Service Representative. She had also worked 3 years in the nursery at LeClaire Christian Church, worked 6 years at the Edwardsville Bonanza working up to a manager position and as a cashier for over 2 years at the Edwardsville Farm Fresh. Tammie was a caring and compassionate person who loved to be silly. She had the most beautiful smile that lit up your soul. Tammie loved her husband and loved her Lord with all her heart to the end!
In addition to her beloved husband of over 37 years and father, she is survived by four sisters and a brother-in-law, Bonnie and Kevin Reid of Middleton, Virginia, Beth Schrumpf of Edwardsville, Cristy Floyd of Arkansas and Jennifer Schrumpf of Granbury, Texas; ten nieces and nephews, Michelle, Steve, Michael, Scott, Mark, Tom, Mike, Amy, Dan and Mark; many great nieces and great nephews; cousins; other extended family and friends.
In celebration of her life and in accordance to her wishes, a memorial visitation will be held at LeClaire Christian Church, 1914 Esic Drive in Edwardsville on Tuesday, November 1, 2022 from 4:00 p.m. until time of memorial service at 6:00 p.m. with Pastor Andy Turner officiating.
Memorials may be made to LeClaire Christian Church, Faith in Action or to the Edwardsville Garden Club. Irwin Chapel of Glen Carbon in charge of arrangements. www.irwinchapel.com
Obit Provided By:
Irwin Chapel Funeral Home