Sung-In Kim
Highland | Tuesday, March 17 2020 |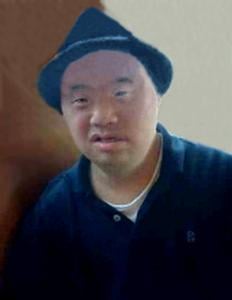 Sung-In Kim, age 52 of Watertown, WI, died Tuesday, March 17, 2020, at in Watertown, WI.
He was born on February 23, 1968, in Lexington, KY, the son of Isaac and Young (nee Han) Kim.
He lived most of his life in Skokie, IL, although he also resided in Highland, IL (2002 - 2012), and Fort. Atkinson, WI (2013 - 2020). In his youth, Sung-In was a student at the Julia S. Molloy Education Center in Morton Grove, IL. He graduated from Molloy in 1989. Sung-In worked at three sheltered workshops over the course of 25 years: Shore Training Center in Morton Grove, IL; Community Link in Breese, IL; and Opportunities, Inc., in Fort. Atkinson, WI. He loved singing, doodling, basketball, bowling, riding his bike, McDonalds, Coke and birthday cake.
Survivors include :
Sister - Elizabeth Sung Eun (Michael J. Longrie, Ph.D.) Kim, Ph. D., Fort Atkinson, WI
Brother - Peter Sung Won (Angela) Kim, M.D., Highland, IL
Niece - Heather Renee Young Kim, Highland, IL
Step Nephew - Justin W. (Adriana) Wolf, Waipahu, HI
Step Nephew - Logan S. Wolf, Highland, IL
Step Nephew - Landon G. Wolf, Columbia, MO
He was preceded in death by Six Predeceased Contacts:
Father - Isaac Euisuck Kim - Died 8/15/2020
Mother - Young Ja Kim nee Han - Died 2/07/2012
Paternal Grandfather - Jung-Soon Kim
Paternal Grandmother - Mong-La Kim
Maternal Grandfather - Ssang Yong Han - Died 9/03/1950
Maternal Grandmother - Myung Soon (Park) Han - Died 7/17/2010
Arrangements are being handled by Spengel-Boulanger Funeral Home in Highland, IL.
A Memorial Service was held on Saturday, June 26, 2021 at Fellowship Baptist Church in Watertown, WI. Graveside Funeral Service will be at 11:00 AM on Saturday, July 10, 2021, at Highland City Cemetery in Highland, IL, with Pastor Paul Chin officiating. Sung-In and his father Isaac, will be interred next to his mother.
Memorial contributions may be made to Highland Area Community Foundation, Holly's House of Hope or Louis Latzer Memorial Public Library.
Obit Provided By:
Spengel-Boulanger Funeral Home