Stephen R. Ellsworth
Edwardsville | Saturday, February 27 2016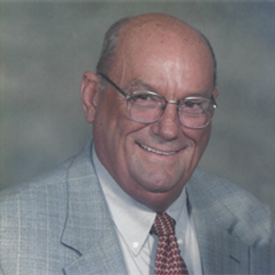 Stephen R. Ellsworth, age 73, of Edwardsville, Illinois passed away peacefully surrounded by his family on Saturday, February 27, 2016, at Kindred Hospital in St. Louis, Missouri, of complications from pneumonia. Steve was born February 3, 1943, in Vandalia, Illinois, the son of the late Ralph & Twila (Cunningham) Ellsworth. He married Rae M. Yehling on February 22, 1964, at the LeClaire Christian Church in Edwardsville. Besides his wife of 52 years, he is survived by a daughter, Kris Ellsworth & husband John Dickshot of Glen Carbon; son, Kurt Ellsworth & wife Janel of Edwardsville; grandchildren, Cameron, Jennie, Lily, & Cooper; and 3 sisters, Joan Baker of Warsaw, Missouri, Judy Albrecht & husband Ken of Temple, Texas, and Renee Allen & husband Steve of Temple; and nieces & nephews, Jill Findley & husband Eric of Warsaw, Chelsea Pershall & husband JR of Robinson, Texas, Tad Allen & wife Kaci of Temple, Samantha Allen of Temple, Rod Yehling of O'Fallon, Illinois, and Pamela Althardt & husband Richard of Pocahontas, Illinois.
He was preceded in death by his parents; brothers-in-law, Gary Baker and Ron Yehling; and nephews, Scott Baker and Carter Albrecht.
Steve attended Highland High School for 3 years and graduated from Edwardsville High School in 1961. He owned and operated the Texaco Service Station on the corner of Buchanan & East Vandalia Streets in Edwardsville. Steve began a 48 year career with State Farm Insurance Company in 1967, sharing an office with his father for many years. He was a Member and Past President of the Board of the First Christian Church in Edwardsville. Steve served as Mayor of the City of Edwardsville from 1977-81, and in recent years he served on the City of Edwardsville Zoning Board and Public Safety Facilities Committee. He served as President of the Edwardsville Jaycees of which he was a Jaycee Senator, Board Member of the Boy Scouts of America, Past Chairman of the Greater Edwardsville Area Community Foundation, and Past President of the Edwardsville Rotary Club.
A memorial service will be held at the First Christian Church, 310 South Main Street in Edwardsville at 11 a.m. Saturday, March 5, 2016, with Rev. James Brooks officiating. There will be a luncheon immediately following at the church. Memorials may be given to First Christian Church or Public Safety Facilities Fund for the new fire stations. Condolences may be expressed online at weberfuneralhome.com. Weber & Rodney Funeral Home in charge of arrangements.
Obit Provided By:
Weber & Rodney Funeral Home