Sister M. Josephine (Frances) Nolan
Alton | Tuesday, March 22 2022 |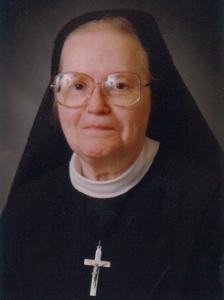 Sister M. Josephine (Frances) Nolan was born on February 7, 1936, in Beltrees, Illinois, the youngest of eight children of Joseph V. and Elizabeth C. (Fessler) Nolan. She entered the Sisters of St. Francis of the Martyr St. George in Alton, Illinois, on February 2, 1957, and on September 17, 1959, made her First Profession. She consecrated herself to the Lord forever in Final Profession on September 17, 1964. With joy and gladness, she celebrated her Golden Jubilee on October 4, 2008, and ten years later, her Diamond Jubilee, both in the Provincial House in Alton.
After her First Profession, Sister M. Josephine worked in the Business Office of St. Anthony's Hospital in Alton until 1979. She then worked for thirty-one years in the laundry of the Provincial House. In March of 2010, she became a full-time Adoration Sister, an appointment she took very seriously and conscientiously, bringing before the Lord in fervent and persistent prayer the needs of the Congregation, the Church, the world, and all those who requested prayers. She was a very strong and dedicated "Prayer Warrior."
Sister M. Josephine was preceded in death by her parents, three sisters and four brothers. She is survived by her religious community, by numerous nieces, nephews, great-nieces, and great-nephews, and by numerous cousins, especially her cousin Julie Finkes.
Visitation for Sister M. Josephine will take place from 3:00 pm to 7:30 pm on Friday, March 25, followed by the Wake Service at 7:30 pm, in the Chapel of St. Francis Convent, Alton, Illinois. The Funeral Mass will take place on Saturday, March 26, at 10:00 am, also in the Convent Chapel.
Memorials may be made for Masses for Sister M. Josephine, or for the Sisters of St. Francis of the Martyr St. George.
Obit Provided By:
Elias, Kallal & Schaaf Funeral Home