Sister Springman
Alton | Sunday, April 18 2021 |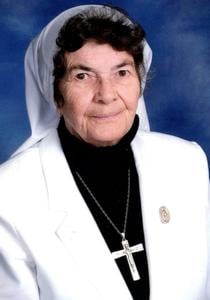 Sister Joan Ann Springman, OSU, died peacefully at 11:45 am on Sunday, April 18th. She was born on February 24, 1934 at her home in Alton, Illinois; the youngest of eight children of Joseph J. and Elizabeth (Valerius) Springman. She had 5 brothers, Jerome V., Eugene E., Gerald J., Edmund J., and Joseph J.; and 2 sisters, Mary L. Girard and Delores T. Mills all of whom preceded her in death.
At the age of 19, she entered the Religious Order of Ursuline's on July 15, 1953, and made her Initial Profession of Vows on January 16, 1956 when she became known as Mother Mary Immaculata. She knew she wanted to be "a religious" from the time she was in the 2nd grade.
She earned a bachelor's degree in Voice from Webster College in St Louis, MO and a Masters in Liturgical Music with concentration in pipe organ from DePaul University in Chicago, IL
Among her many years as an Ursuline Nun, her work as an educator included teaching at Marquette High School and at the Consolidated Catholic School in Decatur. She gave music lessons at the Ursuline Convent in Alton and served in the Music Ministry at Sts. Peter and Paul Catholic Church in Alton and Sts Peter and Paul's in Collinsville.
She most recently lived at St Agnes Home in Kirkwood, MO.
Throughout her life, Sr Joan Ann was well known for her superior organ skills and her beautiful voice. One of her favorite songs to sing, the "Ave Maria", would bring one to tears.
Sr Joan Ann was known and loved by each and every one of her nieces and nephews. Becoming the last surviving sibling in the fall of 2004; she became, in many ways, "the glue" that kept the family connected through her handwritten letters, emails, Religious holiday cards and birthday cards.
Visitation will be Sunday, April 25, 2021 from 4:00-7:00 p.m. at Gent Funeral Home in Alton. A Mass of Christian Burial will be conducted at 10:00 a.m. Monday, April 26, 2021 at SS Peter and Paul Catholic Church with Father Jeff Holtman O.F.S. as celebrant. Burial will follow at St Patrick's Cemetery.
Online guestbook and information may be found at www.gentfuneralhome.com
Obit Provided By:
Gent Funeral Home