Sigurd Utgaard
Alton | Tuesday, March 28 2023 |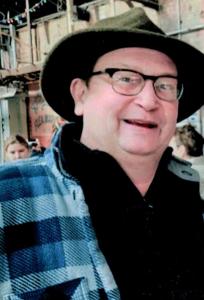 Sigurd "Sig" Utgaard died at 7:29 a.m. Tuesday, March 28, 2023 at his home in Alton. Sig grew up in the southern Illinois town of Carbondale, where many lifelong friends still reside. He always spoke about the town as a magical place where cultures, family, and academic purists melded together. Carbondale was also the home to the famed Rosetta News book store, owned and operated by our Sig who eagerly recommend books and brewed espresso. Every summer growing up his family followed his father to Red Lodge Montana at the YBRA geological field station where John Utgaard taught a field geology class. Sigurd spent his time there learning the landscapes and landforms from his father and getting into trouble with his brothers. This would be a place he continued to visit throughout life sharing its treasure and beauty with his family.
Sigurd was a true renaissance man and one of his life's passions was a purist of knowledge. Sig earned a B.A. in German and Philosophy from SIUC and a Master's in Education from Greenville University. One way he shared this with the world was through becoming a science teacher at Alton middle school. This is where he started and headed the garden club. In following years, he expanded the project through a grant to reclaim Rock Springs Park. His vision was to create an edible food forest at the park. Sig volunteered his time weekly after school, working with students to share his love of nature and sustainability. Sig loved learning and teaching. He was devoted to fostering curiosity in students and supporting his fellow teachers. His coworkers will never forget the dishes he brought to the potluck.
His gift of hospitality reached beyond family to his friends to the community, spending time preparing meals for Pere Marquette Restoration Project, the Madison County Democratic Fish Fry and other opportunities to hone his culinary skills.
True to his Renaissance man nature he had the largest number of skills and interests from collecting Johnny West figurines, large rocks found on hikes, plants that have followed him from home to home, and small dishes for his elaborate dinner parties. He loved playing board games that never ended. Sig loved to explore culture and the world through food - hosting Master and Commander themed dinner adventures, murder mystery parties, and weekly pool parties making him the true "Host with the Most".
Sig's true treasure was his family and his favorite role was being a father. Sig expressed his love through his teaching, culinary skills, with affectionate nicknames; with hard fought games; with celebratory feasts; with heart felt talks; with sharing his tales of travels; unforgettable road trips; the gift of literature and film alike; pool parties and bon fires; and a patience beyond measure.
Siggy had a best friend in his wife sue. They shared an amazing adventure and delighted in the simple treats of life. Children and friends, nature walks, and traveling (with and without their tribe). They knew it was an instant match when both of their bookshelves were adorned with Tarzan books and Johnny West figures.
Visitation will be from 11:00 a.m. until time of memorial service at 1:00 p.m. Saturday, April 1, 2023 at Gent Funeral Home in Alton. Pastor Steven Helfrich will officiate. Online guestbook and information may be found at www.gentfuneralhome.com.
Obit Provided By:
Gent Funeral Home