Sharon Hagedorn
Jerseyville | Friday, February 5 2021 |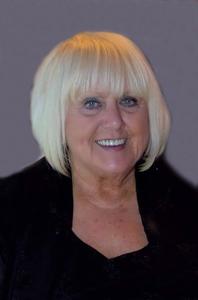 Sharon Marie Hagedorn, 73, passed away unexpectedly on Friday, February 5, 2021, at Missouri Baptist Medical Center in Saint Louis, Missouri.
She was born on December 29, 1947, to the late Ray F. and Eva Mae (Tucker) Dunsing.
Sharon was a 1965 graduate of Jersey Community High School, and later went on to graduate from Cosmetology School in 1973, and owned and managed multiple salons throughout the years, creating many lasting friendships along the way.
She married James Hagedorn on October 9, 1987, in Camden, Missouri. Together, they built a life together, centered around their families, and shared in many wonderful memories with one another, most fondly their time spent fishing on the lake, throughout their 33 years of marriage.
She was currently employed with Jersey Community Unit School District #100 as a Bus Monitor, and was proud to say that she truly enjoyed going to work each day. She tended to each child's needs and had a way of turning tears into laughter with her big hugs or her special treats!
Sharon enjoyed gardening and the occasional trip to the Alton Belle Casino. She thoroughly enjoyed meeting up with the 'Jersey Girls' for their regular lunches and was known for her large Christmas parties. She had a passion for decorating - her home was always decked out from top to bottom for every Holiday, and it didn't stop there she also took pride in decorating each and every school bus, because she knew how much joy it brought to the kids. She also took it upon herself to decorate the employee lounge as well, making special tablecloths with each employee's name, never once leaving anyone out.
While many knew and felt the love that Sharon had, nothing held a candle to the love she had for her children and grandchildren. The title of 'Gam, Gamby, Grandma 'B', or Gucci Gam' was by far her greatest joy in this world. There was never an event, accomplishment or milestone in her grandchildren's lives that she was not there as their cheerleader and supporter.
While the absence of her bright smile and sense of humor will leave an unfillable void in the hearts of those she touched, if we all tried to live our lives with her selfless and giving personality her legacy will live on as a positive and bright light in this world.
Surviving are her husband, Jim Hagedorn of Jerseyville; three sons and daughters in-law, Greg and Jill Blackorby, Jeff and Connie Blackorby and Brad and Amber Blackorby, all of Jerseyville; four step-children and their spouses, Brett Hagedorn of Godfrey, Kayla and Don Withers of East Alton, Eric and Tavena Hagedorn of Godfrey and Jackie and John Howell of Jerseyville; fourteen grandchildren, Alyssa (Joel) Calan, Kirsten (Jared) Manley, Beau Blackorby, Brittney Blackorby and her companion, Bryan Tyler, Parker, Jett, Cruise and Belle Blackorby, Kori (Dylan) Budde, Kelsi and Karli Withers, Joseph, Justin and Jacob Howell; six great grandchildren, Thalia and Milo Calan, Luke and Emma Manley and Hayden and Spencer Budde; as well as a sister and brother in-law, Michelle and Ross Breitweiser of Kane.
In addition to her parents, she was preceded in death by her grandmother, Elizabeth Tucker, with whom she had a very special bond; a grandson, Sam Campbell; a sister, Cynthia 'Cindi' Martin and a brother, Danny Dunsing.
A Memorial Visitation will be held from 11 a.m. until the time of Memorial Service at 1 p.m., Friday, February 12, 2021, at Crawford Funeral Home.
The family kindly requests that masks are worn and social distancing measures be followed.
Private inurnment will take place at Fieldon Cemetery.
In lieu of flowers or plants, memorials may be given to the Jersey Community Unit School District #100 Pre-K program in care of Crawford Funeral Home.
Obit Provided By:
Crawford Funeral Home