Sharon Hewitt
Jerseyville |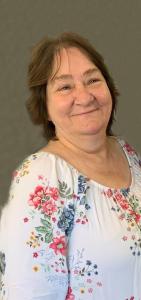 Sharon Louise Hewitt, 63, passed away on Tuesday, November 14, 2023, with her family by her side, after a courageous 6 year battle with lung cancer.
She was born May 9, 1960 in Jerseyville, Illinois to the late Wendell & Myrna Cremeens. Her true "Mom & Dad" were her adored grandparents, Earle & Leona DeUel, who raised her from birth as their own.
She married her soulmate, Gerald "Clippy" Hewitt, on November 21, 1975 in Jerseyville, Illinois and they spent every day together, until his death on May 25, 2021.
Sharon was a devoted wife, a wonderful mother, and a proud Nana to her large family. She dedicated her life to raising her kids and opening up her home to all their friends, oftentimes becoming "the place" to hang out. She was well known as the general manager of Casey's General Store and then finished up her working years by accomplishing her dream of opening her own in-home daycare & getting to share her love with many children locally.
Sharon's greatest joy in life was her family, including keeping tabs on her kids and spoiling the grandkids with lots of love and the very best hugs. She also enjoyed crafting decor to display around the house, playing Candy Crush, doing puzzles, going shopping for clothes & home decor, getting a good deal at a yard sale, and baking sugar cookies with her grandkids at Christmas.
She will be missed greatly by her 5 children: Heather Hewitt, Jennifer (Kenny) Daiker, Crystal Hewitt (Lloyd Klausner), Jarrod (LeAnn) Hewitt, and Korina Hewitt (Aaron Hardwick), all of Jerseyville; her 16 grandchildren; Devin (Erin) Funk, Dylan (Taylor) Funk, Tessa (Austin) Knapp, Hayden Hewitt, Erica (Taylor) Hill, LaKenzie, Jenna, and Krista Daiker, Brentley Klausner, Lauren, Lincoln, and Jace Hewitt, Aiden, Atleigh, Keilee, and Kali Hardwick; and her 7 great-grandchildren: Kylar, Karsyn, and Kamryn Hill, Jensen and Arabella Funk, Parker Funk, and Cooper Knapp.
Her surviving siblings were also very special friends including: Una Dunsing, Eva (Larry) Gardner, Teresa (Roy) Wadkins, Marvin (Cynthia) Johnson, Virginia Johnson, Janice (Lyndell) Barton, and she was so thrilled to recently meet her youngest brother, Michael Hart, who had been adopted at birth. She was also blessed to have many relatives that were loved and thought of as siblings including: Norman (Jerri) Douglas, Ella Gross, and Darlene Hewitt. Her three brother in laws: Gary Hewitt, Raus and Ray Weaver & many special nieces, nephews, and friends will always remember her fondly.
She was preceded in death by her husband, Gerald "Clippy" Hewitt, who she was excited to reunite with in Heaven, along with her parents, and her special brother in laws, Richard Dunsing and Larry Hewitt.
Family and friends are invited to stop by and celebrate Sharon's life from 11am-1pm on Wednesday, November 22nd, 2023 at Crawford Funeral Home in Jerseyville.
Memories may be shared with the family by visiting www.crawfordfunerals.com.
Obit Provided By:
Crawford Funeral Home