Sam Spataro
Collinsville | Tuesday, April 19 2022 |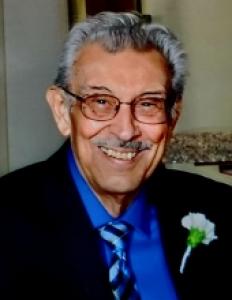 Sam J. Spataro, 90, of Collinsville, Illinois passed away at 3:49 a.m. on Tuesday, April 19, 2022, at his home.
He was born March 8, 1932, in Rockford, Illinois, a son of the late Raimondo and Isabella (Prest) Spataro.
He is survived by his wife, Susan F. (Donian) Spataro with whom he enjoyed a marriage of over 60 years. They were married on February 4, 1962, in San Francisco, California. He retired in 1994 from Lawrence Livermore National Laboratories in California after 30 years of dedicated service as an electrical engineer. A United States Navy veteran, he proudly served his country during the Korean War. Sam was an active participant and advocate for the arts in his community. He sang in both community and church choirs for years and loved attending the Symphony and Musical Theater.
He is also survived by two daughters and a son-in-law, Suzanne and Mark Cooley of Omaha, Nebraska, and Sandra Spataro of Wilder, Kentucky; two grandchildren and their spouses, Kevin and Michelle Cooley of Dodgeville, Wisconsin, and Katherine Cooley and Jonathan Halvorson of Omaha, Nebraska; a great-granddaughter, Holly Cooley; a brother and sister-in-law, Angelo and Mary Anna Spataro of Sacramento, California; nieces; nephews; and other extended family and friends who enjoyed and loved life with him.
In celebration of his life, visitation will be at St. Gregory Armenian Apostolic Church, 1014 West Pontoon Road in Granite City on Friday, April 22, 2022, from 10:30 a.m. until the time of funeral service at 12:00 noon with Father Taniel Manjikian officiating. Burial with military honors will follow at Sunset Hill Memorial Estates on Fountain Drive in Glen Carbon.
Memorials may be made to St. Gregory Armenian Church of Granite City or to the Sempervirens Fund to protect the Redwoods he loved and raised his family in at 419 S. San Antonio Road, unit 211, Los Altos, CA 94022 and www.sempervirens.org. Memorials may also be accepted at the funeral home. www.irwinchapel.com
Obit Provided By:
Irwin Chapel Funeral Home