Ruth McAfee
LaVernia, TX | Monday, October 11 2021 |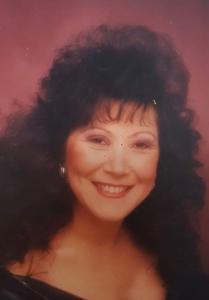 Ruth Teru McAfee LaVernia, TX - Teru "Terri" McAfee, 68, died at 5:45 a.m., Friday, October 8, 2021, at Methodist Metropolitan Hospital in San Antonio, Texas after a long battle with cancer.
She was born in Chicago, Illinois on Friday, February 13, 1953, the second oldest of four army brats. Her parents were Sergeant Frank E Pattillo and Betty Sato Sugimoto. As a daughter of an Army Sergeant, she lived in many different places. They settled in Brighton, IL and she graduated from Southwestern HS in Piasa, IL. She was awarded Miss Macoupin County Queen in 1971 and was a perfect match to donate bone marrow to her brother, Mike, in 1997.
Surviving are her three children, Carrie Cotter (Greg), Kyle (the coolest person ever) McAfee, and Stevie McAfee (Rumaldo Sanchez), one sister, Miki Seaborn (Brian), one brother, Mike Pattillo (Jody). She is also survived by 13 grandchildren, Megan, Melanie, Mallory, Will, Nick, Kate, Kamiko, Zane, Paul, Harmony, Daisy, Lillyana, and Dwight, and many nieces and nephews including David Starkey (Heidi) and Meagan Barnes, whom she was very close to. She was preceded in death by a son, Kirk Allen, her parents, and one brother, Luther Pattillo.
A celebration of life will be held on a future date.