Ruth Lange
Highland | Friday, October 14 2022 |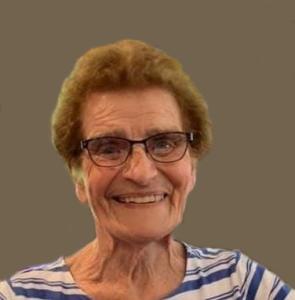 Ruth Margit Lange was born in Bräsigswalde, Germany, on August 14, 1925, to Lydia Eichhorst (née Lemke) and her husband. Shortly after her birth, her parents divorced. Because her mother had to work to support the two of them, Margit lived alternately with her mother or her maternal grandparents until the age of twelve when her mother married Hermann Driesner, a widower and farmer with three small children. They lived a typical, peaceful farm life in the village of Linde in East Prussia until the outbreak of World War II.
Three times during the war, Hermann was called into active duty in the German army as a medic; the remainder of the time, he farmed the land to help provide food for the troops. As the war was coming to an end, the entire family, along with millions of other refugees, had to flee for their lives from Russian invaders, traveling in mid-winter in sub-freezing conditions, along snow-covered trails, crossing frozen rivers and streams, and taking with them only the barest of necessities. Somehow, through the grace of God, Margit, her parents, and her seven siblings all survived the arduous trek, finally settling in the town of Neuburg, East Friesia, where they farmed for several years before moving to Middels, Osterloog where they made their living from a small rental farm.
Margit was 19 when the war ended in 1945. She had hopes of a life like any other nineteen-year-old girl-marriage, perhaps children-but because of the war, there just were no marriageable-aged young men left alive to court her. Finally, in 1951, she threw caution to the winds and accepted an offer to be an au pair for a Canadian couple under a program sponsored by the Canadian government, who agreed to pay her passage by ship if she would stay and work for the couple for two years. Once in Canada, and after completing her required work obligation, she met and married a German refugee named Harry Lange.
Harry was a bigger-than-life character who wanted to live in a bigger-than-life place. So the two of them moved to California and purchased a condo, from which the Hollywood sign was visible through their picture window. To help make ends meet, Margit went to the nearest Wells Fargo bank and offered her services as a teller.
Although she didn't have the proper credentials for the job, the manager wisely hired her anyway. Margit made her way up through their system until she was appointed as the supervisor of all the tellers! She made herself so indispensable that, when the time came for her to retire, they kept calling her back to work. She worked at that facility until she was in her mid-70s. She and Harry attended the Presbyterian church there where they served as Deacons and held other positions of authority.
She and Harry enjoyed a pleasant life together, making memorable trips to Hawaii and various other locales. They often vacationed at a time-share they had at Lawrence Welk Village. However, her beloved Harry died of cancer in 2003. Wanting to spend her final years in the bosom of her family, shortly thereafter, Margit sold off all her furniture and moved to Highland, IL, where she lived in a small apartment at the corner of Laurel and 9th Streets. She immediately became active in the First Baptist Church, serving on the Social Committee and actively participating in the ABWomen's missions group there. She served also as worship leader at monthly worship services at Highland Home and arranged for a birthday, anniversary, get-well, and condolence cards to be sent to members, as needed. She also worked for a time at the Highland food pantry, helping distribute food and recruiting volunteers from her church.
Within the past few years, health issues caused her to give up these jobs, but she remained a faithful, active member of the church to the end of her life. In August of 2021, she moved to Highland Home where she spent her remaining months, happily living among the wonderfully caring, friendly, and supportive staff and residents there. She died peacefully in her sleep on Friday, October 21, 2022, and her soul now lives in eternity with the Christ who was so precious to her.
She is survived by her four loving siblings and their spouses-Manfred and Linda Driesner of Highland; Hildegard Ulmann of Rowland Heights, California; Arnold and Cindy Driesner of Edwardsville; Horst and Barbara Driesner also of Edwardsville-along with numerous loving nieces and nephews and their families.
Memorials may be made to the local food bank, HACSM (Highland Area Christian Service Ministry), or the First Baptist Church of Highland.

Arrangements are being handled by Spengel-Boulanger Funeral Home in Highland, IL.

Visitation will be held from 4:00 PM to 7:00 PM on Monday, October 24, 2022, at Spengel-Boulanger Funeral Home in Highland, IL, and from 9:00 AM to 11:00 AM on Tuesday, October 25, 2022, at First Baptist Church in Highland, IL.

The funeral Service will be at 11:00 AM on Tuesday, October 25, 2022, at First Baptist Church in Highland, IL, with Rev. Rob Kirbach, Pastor, officiating.

The interment will be at Highland City Cemetery in Highland, IL.

Memorial contributions may be made to HACSM (Highland Area Christian Service Ministry) or First Baptist Church of Highland.
Obit Provided By:
Spengel-Boulanger Funeral Home