Ruth Harris
East Alton | Sunday, November 13 2022 |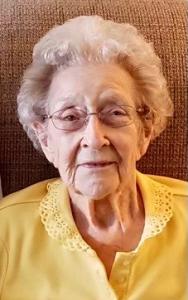 Ruth K. Harris of Lake St. Louis, Missouri (formerly of East Alton), died November 13, 2022.
Ruth Bradshaw was born December 11, 1924, in Jackson County, Illinois, to William and Gertrude (White) Bradshaw.
Bradshaw graduated from Gorham Community High School in 1942, Alton Memorial School of Nursing in 1946, and McKendree University in 1975 with a degree in Psychology. She worked as a registered nurse at Alton Memorial Hospital (where she also taught in the nursing program) and as a school nurse in Alton and Edwardsville, serving as Edwardsville School Corporation's Health Coordinator in the mid 1990s. She was a longstanding member of St. Paul's United Methodist Church in Rosewood Heights, as well as a member of the Edwardsville and Illinois Education Associations.
In September 1947, Bradshaw married Paul N. Perrin. He preceded her in death. In April 1956, she married Robert A. Harris, to whom she was married for fifty-four years. He also preceded her in death.
Harris is survived by her son Dr. Robert Perrin and daughter-in-law Judith Perrin of Clinton, Indiana; her son Fred Harris and daughter-in-law Sue Harris of Lake Saint Louis, Missouri; her grandson Christopher Perrin and granddaughter-in-law Kate Perrin of Concord, California; her granddaughter Jennifer Perrin of Greencastle, Indiana; her granddaughter Ally Schulte of New Orleans, Louisiana; her grandson Jon Schulte and granddaughter-in-law Cheyenne Schulte of Kansas City, Missouri; her granddaughter Madi Schulte of New Orleans; her grandson Evan Harris of Lake Saint Louis; her granddaughter Kate Harris of Lake Saint Louis; her grandson Michael Harris of Lake Saint Louis; her great-grandchildren Henry Perrin, Charlotte Perrin, Zoë Perrin, Audra Anderson, Harper Perrin, and Jeremy Perrin; and her nephew David Bradshaw of Stone Mountain, Georgia.
Harris was preceded in death by her parents; her son the Rev. Dr. Steven Perrin of East Alton; her sister Thelma Bozarth, her brother-in-law Charles Bozarth, and her nephew Alan Bozarth of Tuscola, Illinois; her brother Homer Bradshaw, her sister-in-law Ruth Bradshaw, and nephew Donald Bradshaw of Stone Mountain, Georgia; her brother Robert Bradshaw and sister-in-law Violet Bradshaw of Waterloo, Illinois; and her sister-in-law Ruth Perrin of Alton.
Visitation will be at Paynic Home for Funerals on Nov. 19 at 12:00, followed by service at 1:00; Harris will be buried at Wanda Cemetery in South Roxana.
Harris touched many lives and will be remembered for her kindness and concern for others. In lieu of flowers, memorial contributions can be made to her favorite charity: St. Jude's Children's Research Hospital (https://www.stjude.org).
An online guestbook is available at www.paynicfh.com.
Obit Provided By:
Paynic Home for Funerals